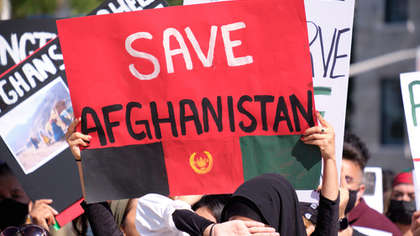 11 Irish citizens and their direct families have been moved from Afghanistan over the weekend.
Minister of Foreign Affairs Simon Coveney confirmed that the Irish citizens and their families left the now Taliban ruled Afghanistan on a flight arranged via diplomatic channels. They are currently in Doha, Qatar as they await a return to Ireland.
The Department of Foreign Affairs have staff in Doha who will assist with the arrivals and facilitate their return to Ireland.
"Coordination will continue with key partners in the coming period," Coveney promised. "My Department continues to liaise with diplomatic partners, including the EU, to explore options for the return of Irish citizens, their dependents and Irish residents from Afghanistan."
36 Irish citizens were evacuated from Afghanistan last month in a mission coordinated by Army Rangers.
A protest was held at the GPO in Dublin on Sunday by members of the Ireland's Afghan community. The protesters voiced their objection to the policies of the Taliban, particularly those affecting women in Afghanistan, who have seen multiple freedoms curbed. Calls were made for the Irish Government to refuse to recognise the Taliban's government and to use their place on the UN Security Council to help those now living under Taliban rule in Afghanistan.