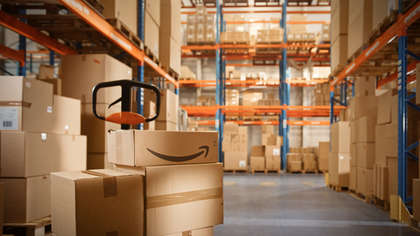 500 new jobs are to be created at Amazon's first Irish fulfilment centre.
The 630,000-square-foot warehouse at Baldonnell Business Park in Dublin is scheduled to open in Spring 2022.
The centre will house millions of items that will require staff to pick, package and ship them across Ireland and Europe.
An Amazon spokesperson said the Baldonnell centre will "provide faster delivery for customers across Ireland seven days a week, including one-day delivery on hundreds of thousands of items."
Amazon are currently in the process of recruiting staff for the centre in the roles of engineers, HR and IT professionals, health and safety specialists, finance specialists and operations managers. Packing and shipping staff will be hired next year.
Along with the Baldonnell centre, a second facility will open at Northwest Logistics Park in Ballycoolin. 20 new jobs will be created at this 83,500-square-foot facility, which will serve the Dublin area. It's expected to open later this year.
The news was welcomed by Martin Shanahan, CEO of IDA Ireland.
"Amazon has had a presence in Ireland for 17 years now, growing and expanding its range of activities which has contributed significantly to Ireland's tech ecosystem and our reputation as a global tech hub," he said. "Already a substantial and valued employer, the 500 additional jobs being created in this new centre will bring its permanent workforce to over 5,000 next year in Ireland."