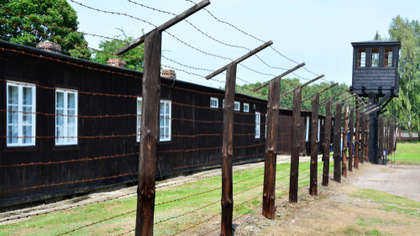 An arrest warrant has been issued for 96-year-old former Nazi death camp secretary Irmgard Furchner.
Furchner was due to stand trial for her crimes in Germany today but failed to show up at court.
She is charged with being complicit in the murders of more than 10,000 people during her time as secretary at the Stutthof concentration camp in occupied Poland.
Frederike Milhoffer, a spokesperson for the court, said that Furchner left her retirement home this morning and took a taxi to a subway station. She failed to arrive at the court however.
The trial in the German town of Itzehoe was due to start one day before what would have been the 75th anniversary of the sentencing of 12 senior Nazis to death by hanging at the first Nuremberg trial.
As she was a teenager while working for the Third Reich, Furchner is being tried in a youth court.
Between June 1943 and April 1945 Furchner was employed in the office of Stutthof camp commander, Paul Werner Hoppe.
Among the 65,000 prisoners who died at Stutthof were "Jewish prisoners, Polish partisans and Soviet Russian prisoners of war."
Furchner was deemed fit to stand trial in February.
"She typed out the deportation and execution commands" for Hoppe and initialed each message herself, claims lawyer Christoph Rueckel, who represents Holocaust survivors.
German prosecutors are currently handling another eight cases of former death camp employees. Proceedings are due to begin in the case of a 100-year-old former camp guard in Neuruppin next week.