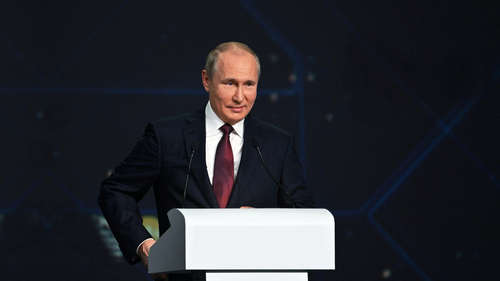 US and Russian leaders Joe Biden and Vladimir Putin have agreed to a summit amid fears that Russia is on the verge of invading Ukraine.
The news was announced through the office of French President Emmanuel Macron.
A Whitehouse statement however said the summit was "completely notional" until a time and format was agreed upon.
French officials said preparations for the summit would begin this Thursday and that it would also involve other "relevant stakeholders."
The news comes after a weekend of shelling in Eastern Ukraine, with government forces battling Russian separatists and thousands being evacuated from their homes.
The Foreign Affairs Council is meeting in Brussels today to discuss the ongoing crisis, with Ireland's Minister for Foreign Affairs Simon Coveney in attendance.
"This meeting comes at an important juncture," Coveney said. "The developments we have seen in recent days are very concerning. We urgently need to see a move towards de-escalation, stabilisation and diplomacy by Russia, including a substantial withdrawal of military forces, respect for the ceasefire in eastern Ukraine and the halting of information manipulation. As we have made clear at the UN Security Council, Ireland is a steadfast and consistent supporter of Ukraine's sovereignty and territorial integrity within its internationally recognised borders."
Western powers have accused Russia of amassing over 150,000 troops along its border with Ukraine in preparation of a full scale invasion.
Putin has defended Russia's actions as self-defence against Ukrainian aggression and has asked "the United States and NATO to take Russian demands for security guarantees seriously."