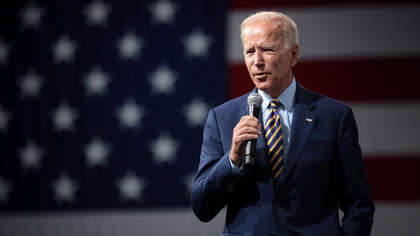 US President Joe Biden has warned UK Prime Minister that the Northern Ireland process must not be disrupted by Brexit.
The two leaders met in the Oval Office of the White House, where Johnson provided Biden with updates on the Northern Ireland Protocol.
Biden said that as a proud Irish-American he feels "very strongly" about the peace process.
"I would not at all like to see, nor I might add would many of my Republican colleagues like to see, a change in the Irish accords, the end result having a closed border in Ireland," he said.
"That's absolutely right," Johnson concurred. "On that point, Joe, we're completely at one, nobody wants to see anything that interrupts or unbalances the Belfast/Good Friday Agreement."
In the UK PM's first White House meeting with Biden since the latter's election, the issue of a trade deal between the two nations was downplayed.
Johnson suggested that Biden has "a lot of fish to fry" and may not get around to brokering a trade deal before the next UK election.
A stand-alone trade deal with the US has been the priority for the UK since leaving the UK, but there have been suggestions the UK may instead settle for joining an existing trade pact between the US, Canada and Mexico.
"Our focus is on the US stand-alone deal and that's what we're working towards," a spokesperson for Johnson stated amid the speculation.
Ahead of the meeting between the US and UK leaders, Taoiseach Michéal Martin was asked for his opinion on the message Biden would send Johnson regarding Northern Ireland.
"He has been very consistent in terms of the messaging he has given Boris Johnson and the UK in relation to the implementation of the Northern Ireland Protocol," he replied.