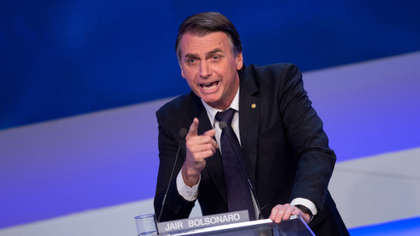 Controversial Brazilian president Jair Bolsonaro has reiterated his refusal to get vaccinated against COVID-19.
Despite having caught the virus himself, Bolosonaro has consistently downplayed the seriousness of COVID-19, drawing worldwide condemnation of his handling of the pandemic.
Over 600,000 people have died with the virus in Brazil, a death toll topped only by the US. 100 million of its 213 million population are fully vaccinated.
"I've decided not to get vaccinated," Bolsonaro confirmed on Brazilian radio. "I'm looking at new studies, I already have the highest immunisation, why would I get vaccinated? It would be the same as betting 10 reais on the lottery to win two. It doesn't make sense."
Bolsonaro once joked that the Pfizer vaccine would turn people into crocodiles.
The president contracted the virus last summer and has since claimed that he possesses enough antibodies to defeat the virus without the aid of a vaccine.
Some Brazilian cities are operating vaccine passes for certain public spaces, something Bolsonaro objects to strongly.
"For me, freedom comes before everything else," he said. "If a citizen doesn't want to get vaccinated, that's his right and that's the end of it."
While visiting New York for the UN General Assembly last month, Bolsonaro was photographed eating pizza on the street, due to being unable to eat indoors in the city which operates vaccine passes for dining.