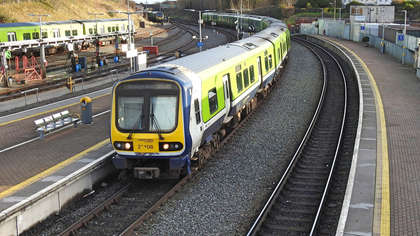 Ireland's newest train station beings operating today in North Dublin.
Located between the Ashtown and Broombridge stations, the new station at Pelletstown will serve the Dublin to Maynooth/M3 Parkway line.
The station will serve the local Dublin 7 communities of Ashington and Royal Canal Park.
Pelletstown station was announced back in 2018. With a growing population in the Ashtown area it was described at that time as being "badly needed."
On weekdays the station will operate 94 trains a day with an estimated journey time of 12 minutes to the city centre.
Pelletstown is Irish Rail's 145th station and the first new station to open since Oranmore, Co. Galway back in 2013.
With the new station comes new footbridges that will provide access for pedestrians and cyclists to the Royal Canal Greenway.
The 2016-2022 Dublin City Council Development Plan designated the Pelletstown area as a "key development area."
Parking for bicycles will be available at the station along with dedicated accessible car park spaces next to Ashington Park.
📣 Welcome to Pelletstown! Our newest station now open - 94 trains daily on weekdays between Pelletstown and Dublin City Centre, and journey time from 12
minutes.
ℹ️ Minor changes to Maynooth / M3 Parkway to Dublin Connolly timetables, full details at https://t.co/r50m24kCsx pic.twitter.com/EYJG31qw6E

— Iarnród Éireann #StaySafe (@IrishRail) September 26, 2021
Passengers on the Dublin to Maynooth line have been advised by Irish Rail that some services may be subject to minor alterations from Sunday due to the opening of the Pelletstown station.
Irish Rail advises passengers at all stations on the line to check departure times before travelling as some stations will now see slightly earlier departures.