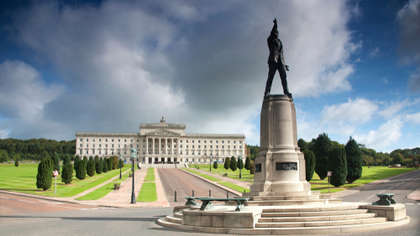 Democratic Unionist Party leader Jeffrey Donaldson has threatened that his party will collapse the Stormont executive if their demands in the Northern Protocol are not delivered.
Donaldson also announced the withdrawal of the DUP from north-south political institutions established by the Good Friday Agreement.
The DUP is challenging the legality of checks on goods brought to Northern Ireland from mainland Britain.
"If in the final analysis those who are democratically elected by the people of Northern Ireland lack the power to prevent such checks, if that is the case, if our ministers cannot in the end prevent these checks taking place and if the protocol issues remain, then I have to be clear, the position in office of DUP ministers would become untenable," he said. "If the choice is ultimately between remaining in office or implementing the protocol in its present form then the only option, the only option for any unionist minister would be to cease to hold such office."
"Within weeks it will become clear if there is a basis for the Assembly and Executive to continue in this current mandate, and I want that to happen," Donaldson continued. "But, equally, we will also need to consider whether there is a need for an Assembly election to refresh our mandate if action is not taken to address and resolve the issues related to the protocol and its impact, its damaging impact on Northern Ireland each and every day."
Taoiseach Micheál Martin responded to Donaldson's threat.
"It is very clear to me that Europe is in solution mode, Europe wants to be helpful here, and Europe is very conscious of the need to keep our institutions of the Good Friday agreement intact and flourishing," he said. "And that is a very key objective of mine as well, that Assembly and the Executive do not collapse, because the people of Northern Ireland do not deserve that. They need a functioning government in the north, we need strong north-south engagement, particularly on the economic and social side."