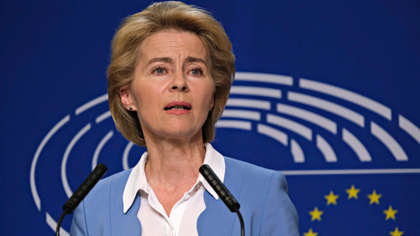 EU Chief Executive Ursula Von der Leyen has warned of a potential "pandemic of the non-vaccinated" in her annual policy speech.
Von der Leyen said the pace of vaccinations needs to be hastened across the globe.
"Let's make sure that it does not turn into a pandemic of the non-vaccinated," she said in her address to MEPs in Strasbourg, France. "With less than 1% of global doses administered in low income countries, the scale of injustice and the level of urgency is obvious."
The EU chief executive warned that "the next year will be another test of character" as she highlighted the variation of vaccination rates among the EU's member states.
The most recent figures show that 70% of the EU's adult population are now fully vaccinated.
Von der Leyen predicted that 19 EU member states would see their economies return to pre-pandemic levels this year, with the rest recovering next year.
She also announced that the EU would be doubling its donation of COVID-19 vaccine donations to low-income countries to 200 million doses.
"This is an investment in solidarity, and it is an investment also in global health," the European Commission President said.