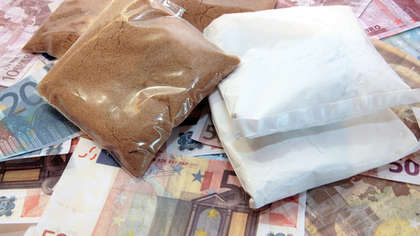 Raids in Dublin and Galway have led to the arrest of four men as large quantities of drugs and cash were uncovered.
Two men were arrested following a seizure of almost €180,000 worth of drugs and cash in Tallaght.
As part of Operation Tara, a house at Brookview Drive was searched by gardaí on Tuesday afternoon. €69,930 in cash was seized at the address.
A second search on Tuesday evening at a house in New Seskin Court led to the discovery of cocaine and MDMA worth a combined €108,687.
Two men were arrested, one in his 20s and the other in his 30s. The latter has since been charged while the younger man has been released without charge.
A file is being prepared for the Director of Public Prosecutions.
Overnight Operation Tara also carried out a number of searches in Galway.
€36,500 worth of suspected cocaine, €80,600 worth of suspected cannabis and €2,100 in cash were seized in the Galway searches.
Two men in their late teens were arrested. They are being held at North Western Regional Headquarters Galway under the provisions of Sections 2 of the Criminal Justice (Drug Trafficking) Act 1996.