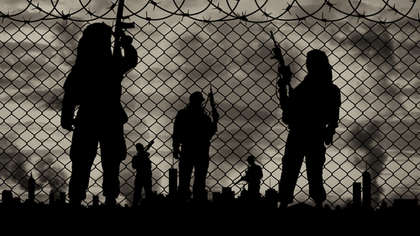 The French government announced today that it has killed the leader of so-called Islamic State in the Greater Sahara.
Adnan Abu Walid al-Sahrawi was killed by France's Barkhane military operation several weeks ago. The announcement was delayed while his identity was confirmed.
Al-Sahrawi is believed to have ordered the murders of six French aid workers and their Nigerien co-workers last year. His group, Islamic State in the Greater Sahara, was responsible for a 2017 attack against US and Niger military personnel, resulting in the deaths of four Americans and four Nigeriens.
"He was at the origin of massacres and terror," France's foreign minister Jean-Yves Le Drian said of Al-Sahrawi.
IS in the Greater Sahara are believed to still be holding American Jeffery Woodke, whom they kidnapped in 2016 from his home in Niger.
Al-Sahrawi had previously been a key figure in the Malian terrorist group MUJAO, which was loyal to al-Qaida. In 2015 he announced his allegiance to IS in Iraq and Syria. He had been operating under the Islamic State banner in Mali and Niger before his death.
France maintains a military presence in its former colony of Mali but plans are afoot to reduce that presence by withdrawing 2,000 troops next year.