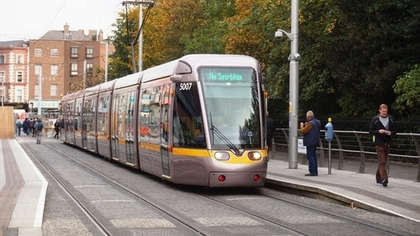 Public transport in Ireland has returned to full capacity for the first time since the start of the pandemic.
From today, September 1st, all seats will be available on buses, trains and trams across the country.
The decision to lift capacity limits was made in preparation for the reopening of schools and colleges, along with workers returning to offices later this month. Non-essential workers can return to their workplace from September 20th.
"We do need public transport back because we are going to be bringing people back to offices and college and they need a way to get in," said Minister for Transport Eamon Ryan.
Prior to today, public transport has been operating at 75% capacity since July 19th when it was increased from 50%.
Face coverings will remain mandatory on all public transport.
"The wearing of face coverings remains mandatory, and I would ask that passengers be patient while getting on and off services and to always treat transport staff with respect," said National Transport Authority Chief Executive Officer Anne Graham. "We look forward to passenger demand increasing as confidence in the safety of public transport grows."
Graham warned commuters to expect public transport to become busier in the coming weeks and to plan trips where possible.
"As schools and third-level institutions return to on-site learning we expect services to become busier in the coming weeks," she said. "If you want to avoid busy services our advice is to plan ahead of your trip and avoid peak times if possible."