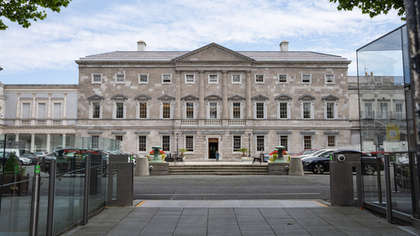 Students have travelled from across the country to protest outside the Dáil today in a bid to highlight their frustration with the ongoing accommodation crisis.
The Union of Students in Ireland, which organised the protest, say some students are being force to turn down or leave third level courses as they can't find accommodation.
Many of the protesters intend to sleep outside the Dáil overnight.
USI President Claire Austick highlighted how many students are having to stay in hotels and B&Bs. She called for custom student accommodation to be built.
"Access to education is not just about getting in the door ... it's also about having a place to stay and that often gets forgotten about," Austick said.
Dublin City University has criticised the Government's Housing for All plan.
"Escalating construction costs mean that it is now simply uneconomic for universities to undertake the construction of student accommodation," DCU said in a statement.
DCU claims that it would cost as much as €150,000 per student bed to provide custom accommodation, and that "this is likely to increase further with construction sector inflation running in excess of 10% per annum." The university said the rental costs required would be impossible for most students to afford.
"A sustainable solution is urgently required to enable the sector to provide additional affordable student accommodation," DCU President Daire Keogh said. "This will necessitate creative solutions and incentives to make the construction and maintenance of new student accommodation economic and enable universities to offer accommodation at an affordable price."
DCU's Student Union President Terence Rooney said it has become harder than ever for students to find accommodation this year.
"We are seeing B&Bs and hotels in the surrounding areas filling up to capacity as a means of emergency accommodation for students, and many students will choose to defer as attending college this year is simply unaffordable and unsustainable," he said.

USI is NOW demonstrating outside the Dáil and we will sleep out overnight to DEMAND urgent action on the student crisis accommodation❗️❗️❗️

USI and SUs across Ireland are demanding 👇#NoKeysNoDegrees 🔑📜 #SéanadhTíSéanadhOideachais pic.twitter.com/g6nQzcfbyG

— Union of Students in Ireland (@TheUSI) September 23, 2021