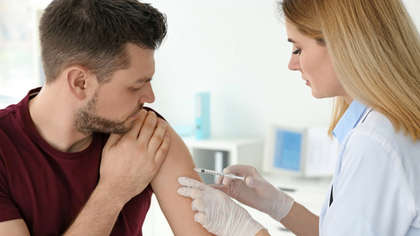 A new survey has found a higher rate of vaccine hesitancy in young people compared to the general Irish population.
Ipsos MRBO carried out the survey for the Irish Pharmaceutical Healthcare Association (IPHA), which represents Ireland's biopharmaceutical industry.
13% of those surveyed in the 18-34 age group expressed hesitancy regarding the vaccine.
8% said they would refuse a vaccine while 5% said they were undecided.
The figure for vaccine hesitancy in the general population was found to be 9%, broken down into 6% saying they would refuse a vaccine and 3% undecided.
Vaccine hesitancy has dropped considerably since IPHA's survey last October. Back then 12% said they would not accept a vaccine with as many as 33% unsure.
The latest survey found that 91% of people have either received a vaccine or intend to receive a vaccine.
"Vaccination is the difference," said Bernard Mallee, Director of Communications and Advocacy at IPHA. "It is reducing serious illness, hospitalisations and deaths caused by COVID-19. Even though vaccine hesitancy is more prevalent in younger people than the overall population, Ireland's vaccination rate in the community is still among the highest in Europe. There should be no room for complacency, though."
Mallee stressed the importance of engaging with those who remain vaccine hesitant.
"It is vital that we engage with people of all ages in continuing to build trust in science and in facts, and in maximising vaccinations across the eligible population," he said. "We have clear evidence of the real-time effectiveness of vaccination for COVID-19. Strong public health messaging on safety – whether during trials or in the community – helps to build public confidence."