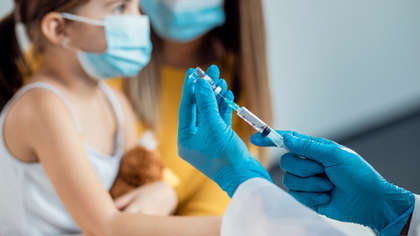 Micheál Martin says he has "no issue" with children over five receiving the COVID-19 vaccine.
Trials undertaken by Pfizer and Biontech have shown their vaccine to be safe and effective for children aged 5-11. Children in that age group would receive a lower dosage than those aged over 12.
The pharmaceutical company will submit its results to the EU regulators and those around the world "as soon as possible."
A similar trial by Moderna is still ongoing.
"I've no issue with the principle of that," the Taoiseach said of vaccinating children under 12. "But I would be bound by public health guidance in respect of the public health who will have to weigh up the benefits for the child in respect of receiving the vaccine as opposed to the risks to the child. So that will have to be a public health and clinical issue that would be assessed in the first instance by the National Immunisation Advisory Committee (NIAC) and by the Public Health Division, particularly the chief medical officer."
Martin pointed out that we currently vaccinate children for other reasons but the benefits of vaccinating against COVID-19 would have to be weighed up.
The Taoiseach highlighted how many low-income countries are struggling to receive vaccine supplies.
"We have to be conscious of Africa is at a very low single digit number – on to 3% in some countries in Africa," he said. "So there is a point in time and we've got to say, the vaccines needs to be used elsewhere."
Earlier in the week Vietnam asked for help from Ireland in sourcing vaccines.