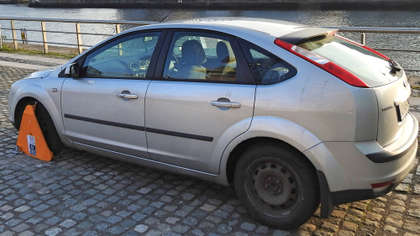 Figures released by Dublin City Council show a significant drop in the number of vehicles clamped in the city last year.
While 45,958 vehicles were clamped in Dublin in 2019, that figure fell by a quarter to 35,594 in 2020 as the lockdown took effect.
As Dubliners began working from home during the lockdown, clamping fees saw a major drop.
As the first lockdown hit, the n umber of clamping fees issued in March, April and May of 2020 was just 4,396 compared to 12,751 in the same period of the previous year.
As restrictions eased in June, July and August the figure rose to 8,382 but was still significantly lower than the 2019 figure of 12,924 for the same months.
The council made almost €1 million less from clamping fees in 2020 than in 2019. A total of €2,412,960 was collected in 2020, down from €3,314,000 in 2019.
The street with the highest number of vehicles clamped in 2020 was the city centre's Clarendon Street. 809 vehicles were clamped on the street over the course of last year.
The 20 Dublin locations with the most clamped vehicles in 2020 are:
1. Clarendon Street, Dublin 2 – 809
2. Capel Street, Dublin 1 – 416
3. Ranelagh, Dublin 6 – 398
4. South Circular Road – 389
5. Chelmsford Road, Dublin 6 – 378
6. Mespil Road, Dublin 4 – 345
7. Merrion Square North, Dublin 2 – 325
8. Parnell Street, Dublin 1 – 318
9. Waterloo Road, Dublin 4 – 308
10. South William Street, Dublin 2 – 281
11. Commons Street, Dublin 1 – 274
12. Merrion Square West, Dublin 2 – 265
13. Charlemont Street, Dublin 2 – 225
14. Gardiner Street Lower, Dublin 1 – 216
15. Rialto Street, Dublin 8 – 215
16. Swifts Row, Dublin 1 – 203
17. Eccles Street, Dublin 7 – 203
18. North Lotts, Dublin 1 – 193
19. Fitzwilliam Square North, Dublin 2 – 193
20. Parnell Square North, Dublin 1 – 190