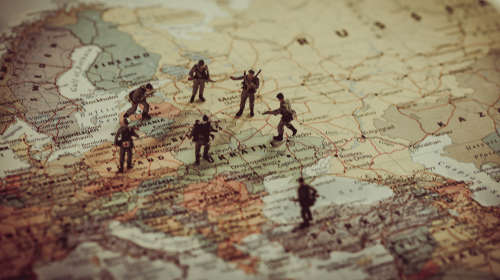 Western leaders are convinced a Russian invasion of Ukraine is now imminent.
French President Emmanuel Macron made a phone call to Russian President Vladimir Putin this morning in a last gasp effort to convince the Russian leader not to order an invasion of Ukraine. It follows a meeting on February 7th between the two leaders.
A spokesperson for Macron called this morning's phone call "the last possible and necessary effort to avoid a major conflict in Ukraine."
Shelling was reported in Eastern Ukraine last night as Ukrainian government forces battled Russian separatists. Ukraine's military said two of its soldiers were killed in the fighting.
Speaking at the Munich Security Conference, British Prime Minister Boris Johnson warned that a Russian invasion of Ukraine would lead to huge loss of life on both sides.
"I think a lot of people need to understand the sheer cost in human life that that could entail, not just for Ukrainians but for Russians," he said.
Johnson's Foreign Secretary Liz Truss warned that Putin "will not stop at Ukraine."
US President Joe Biden said he is "convinced" Putin has "made the decision" to invade Ukraine.
German Foreign Minister Annalena Baerbock warned western leaders not to stoke the fires of conflict with their rhetoric.
"We do not know yet if an attack has been decided on," she said while acknowledging that the "threat against Ukraine is very real."