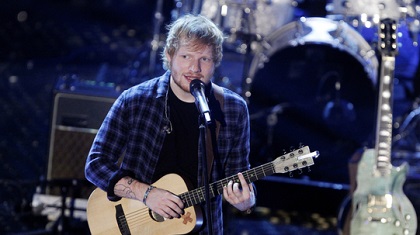 Ed Sheeran has said that Kylie Minogue will feature on his upcoming album.
Speaking to Austrailian radio host, Ash London, Sheeran said that along with Kylie Minogue, another Austrailian musician Jimmy Barnes will feature on a yet-to-be released new track.
Sheeran met both Minogue and Barnes at the memorial of the late Austrailian music executive, Michael Gudiniski. Gudinski founded the Mushroom Group. His memorial was held in Melbourne's Rod Laver Arena back in March.
During the memorial, Sheeran help Minogue to sing two of her tracks, "The Loco-Motion" and "All The Lovers".
Visting Hours
When complimented by London on his performance of an unreleased track called "Visiting Hours", Sheeran's response was to confirm Minogue and Barnes' contributions to the track.
"Jimmy Barnes and Kylie are actually singing on that on the album now. I've got them singing backing vocals on it", he said. "I was there that night, and those two people – from knowing Michael – they're the most important people in Michael's life, musically".
"I sang with Kylie and then I hung with Jimmy afterwards", Sheeran explained. "and I was like 'you guys have to be on this song".
Sheeran has already released his new track "Bad Habits", which will also feature on this album, expected to be released later this year.
"Bad Habits" reportedly hit 1.5 million streams, following its release last Friday.
Ed is also set to join James Corden's Late Late Show for a week long residency. Check that out below.
Ed will join @JKCorden for a week long residency on the @latelateshow every night this week. Tune in from 12:37am ET on @cbs #LateLateShow #LateLateSheeran pic.twitter.com/eINQlOtVAR

— Ed Sheeran HQ (@edsheeran) June 29, 2021