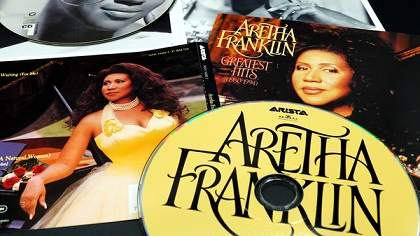 The four-CD collection, which will also be available as a single disc featuring 20 songs, will arrive just before of the premiere of Respect, a biopic of Franklin's life starring Jennifer Hudson.
A career-spanning box set of Aretha Franklin's classic hits is finally due to release on July 30th. The set, originally scheduled for release last year, will celebrate the star's time with Atlantic Records, J.V.B Records, and Columbia Records.
Truly a legend in her game, the Queen of Soul is one of the finest singers ever to grace music history. During an unrivalled career, Franklin's multi-octave voice touched the soul of fans all over the globe for six decades. For the first time, her entire reign as Queen of Soul will play out across four discs on Rhino's new boxset, including songs from every label she has recorded with. Aretha will include a whopping 81 newly remastered tracks, from the singer's earliest days on the scene, to her most recent recordings. The set features alternate versions of some of Soul's biggest hits, demos, live performances and more.
Arranged mostly in chronological order, the set begins in 1956 with Franklin's first single released by J.V.B Records; Never Grow Old and You Grow Closer. The following 10 tracks cover franklin's time from 1960 to 1966, when she was signed to Columbia Records. Franklin's first single with the label, Today I Sing The Blues, first single to make it on the Billboard Hot 100, Won't Be Long, and Top 40 R&B hits, Runnin' Out Of Fools, One Step Ahead and Cry Like A Baby.
A large part of the set is dedicated to Franklin's record-shattering tenure with Atlantic Records, spanning from 1967 to 1979. Tracks included five consecutive #1 R&B albums, and the first two unreleased songs on the collection My Kind Of Town (Detroit Is) and Try A Little Tenderness. The tracks are home demos Franklin recorded in '66, to give Atlantic executive and producer, Jerry Wexler a direction for possible material on her debut LP for label.
Many classic Franklin hits feature, such as I Never Loved a Man (The Way I Love You), Do Right Woman - Do Right Man, Respect and, Chain of Fools. Some memorable collaborations also feature on the 4-disck boxset, including Sisters Are Doin' It for Themselves with Eurythmics and, I Knew You Were Waiting (For Me) with George Michael.
A previously unreleased 1978 studio version of Franklin's cover of Debby Boone's You Light Up My Life is among the material gathered on Aretha.
You can hear the song below.