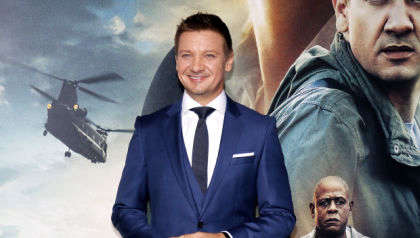 Jeremy Renner has stated that he "chose to survive" following his snowplough accident at his resident ski lodge in California last January.
The actor made these comments during a special ABC interview with Diane Sawyer, which will air next week (April 5).
The interview will see Renner speak in intimate detail about the accident, which saw him crushed by a 6 tonne snow plough, while trying to save his nephew, who was also present at the interview.
The actor was airlifted to hospital where it emerged that he sustained several broke bones, including his ankle, tibia, clavicle and eye socket manible and jaw, along with sustaining a collapsed lung, after it was pierced by his rib bone. The rib bone also penetrated his liver.
Despite the injuries, Renner insisted that he would "do it again" to protect his nephew.
"I just perfectly see him in a pool of blood coming from his head, and I ran up to him… You know, I didn't think he was alive", his nephew said.
Jeremy Renner stated that he "chose to survive", in a special which will also show footage of his recovery in hospital, along with the 911 call made by his nephew.
Check out the preview clip below.