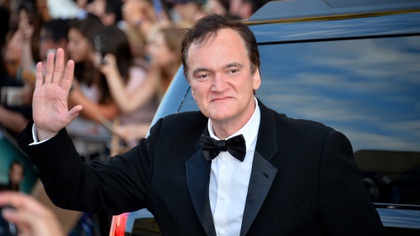 Cult filmmaker Quentin Tarantino has turned his talents to the page with a novelisation of his film, Once Upon a Time in Hollywood.
Despite a running time of close to three hours, Once Upon a Time in Hollywood left Tarantino fans wanting more. Speculation has long been rife that as with his previous film, The Hateful Eight, Tarantino might strike a deal with Netflix to release an extended version of the movie on the streaming service. While there's still no news of that happening, fans of the director's most recent movie now have the chance to immerse themselves further in its world of 1969 Los Angeles as Tarantino has penned a novelisation of his film.
Movie tie-in novelisations have fallen out of fashion in recent decades but in the pre-internet age they were a big deal. Often released weeks or even months before the film itself, a movie novelisation sometimes provided the first look at an upcoming movie, usually coming with a section of colour still photos in its centre pages. In the days before VHS it was the closest most fans could get to owning their favourite movie. As they were usually written based on an early draft of a movie's screenplay, novelisations often veered significantly from the plot of the finished product, offering glimpses into movies that might have been.
The job of penning a novelisation was traditionally farmed out to a journeyman writer, but there have been some cases of filmmakers choosing to adapt their own work for the format. In 1977 Steven Spielberg wrote a novelisation of his hit film Close Encounters of the Third Kind, while Sylvester Stallone novelised the second and fourth movies of his blockbusting Rocky franchise. A novelisation of Star Wars boasted director George Lucas's name on the cover; however it was actually ghost written by Alan Dean Foster, a writer who has worked on dozens of movie tie-ins.
Tarantino began talking about writing a novelisation of Once Upon a Time in Hollywood before the film was even released but few believed he would actually go ahead and write it. It's now been confirmed that publisher Harper Collins will release Once Upon a Time in Hollywood: A Novel on Tuesday, June 29th.
The film followed the exploits of Rick Dalton, a struggling actor played by Leonardo DiCaprio, and his stunt double/best buddy Cliff Booth (Brad Pitt) as their paths cross with actress Sharon Tate (Margot Robbie) in the days leading up to her murder at the hands of members of the Manson Family.
The novelisation promises to delve deeper into the lives of the three central characters, fleshing out their back-stories with tales from their lives prior to the events of the movie.
"I think if you're a fan of the movie, I think you will get a kick out of reading the book, and exploring the characters further and deeper, and learning secrets that you didn't know, and were not in the movie," Tarantino recently told the Pure Cinema Podcast. "It's not just me taking the screenplay and then breaking it down in a novelistic form. I retold the story as a novel. So it's not like, 'Oh, okay, well he obviously had a few scenes left over, so he just took the screenplay and novelised it and threw in a few extra scenes.' It was a complete rethinking of the entire story and not just a rethinking as far as throwing some scenes that were left out of the editing room. But I did so much research."
Tarantino promises a major focus on fan favourite Cliff. "In the movie, Cliff is a real enigma, you're kind of like, what's this guy's deal? And one of the things in the book is, there's these isolated chapters that tell you, like, this whole chapter will be about Cliff's past. It goes back in time to tell you about Cliff at this point in time. And then you go further on with the normal run of the story and there's another chapter that goes back in time and tells you about Cliff's past. And every isolated chapter that's just about Cliff's past is like a weird little pulp novel unto itself starring Cliff."
Once Upon a Time in Hollywood: A Novel will be released on paperback, e-book and audiobook on June 29th, followed by a deluxe hardcover edition in the autumn.