Competition live: 7th- 11th September
Tune in to the Damian Farrelly Show all this week for your chance to win an incredible prize from Kilmartin Education Services
We are giving away a FANTASTIC online Pre-Recorded Revision course package for Junior or Leaving cert 2021 & a hotel stay in Limerick:
At the click of a button students can revise vital exam topics with Julie's online revision courses and then A 2-night family stay in The George hotel with dinner in Da Vincenzo's on an evening of your choice and breakfast each morning.
T's & C's Apply*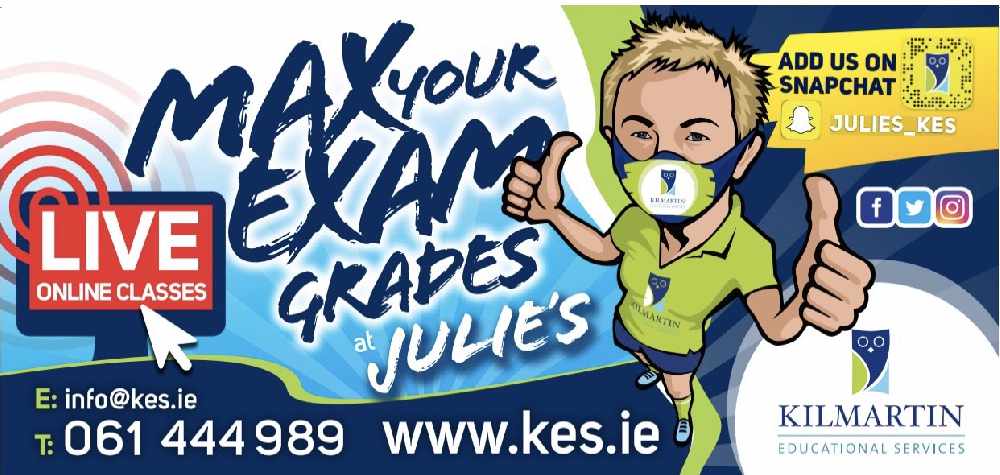 Julie Kilmartins renowned 5-star weekly grinds & revision courses on site and online in conjunction with The George Hotel – Limericks most centrally located hotel.
Kilmartin Educational Services Online and On-Site Revision Courses are a must for any Junior or Leaving Cert student sitting exams next June 2021. They revise Vital Exam Topics, giving student the necessary exam edge.
These Revision Courses are taught by some of Ireland's Top Teachers, many of whom are highly experiences Sate Examiners. Learn with us safely in our classrooms or alternatively you can join us online at kes.ie
Weekly online live classes along with onsite classes are available to help support students over the coming year. See kes.ie for times and details on all our classes and courses.
The George Hotel. Superbly located in the heart of Limerick City, your perfect location for business or pleasure. Ideal for the modern corporate guest doing business in Limerick, Shannon or the surrounding business parks. Georgelimerick.com
*Hotel based on 2 adults and 2 kids: subject to availability.