Competition live: 21st-25th October
Tune in to the Nikki Hayes show all this week for your chance to win an incredible prize from Bunratty Castle & Folk Park
We are giving away...
Daily Prize: Family Ticket for 2 adults & up to 4 children to the spine-tingling Monsters, Misfits and Mayhem Halloween event at Bunratty Castle and Folk Park
PLUS one lucky upgraded winner will not only receive the Monsters, Misfits and Mayham Halloween Tickets but also a family Platinum Membership & Rewards card for 2 Adults and 4 Children. This gives you admission into ALL Shannon Heritage Sites around Ireland, Including Christmas Santa visits!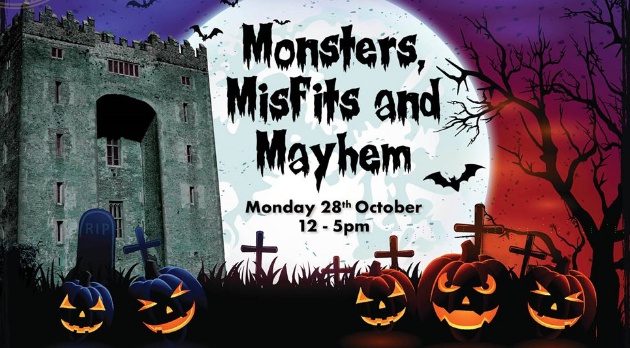 Monsters, Misfits and Mayhem at Bunratty Castle & Folk Park this Bank Holiday Monday 28th October from 12 to 5pm.
Commencing from 12noon until 5pm all visitors can enjoy a jam-packed schedule of events! From Face-painting, bouncy castles, juggling shows, Balloon modeling to Scary Storytelling and Mysterious Magic Shows, there is something for ALL ages!
Explore the creepy crypt in the castle basement complete with Dracula in his coffin, a screaming banshee, and freaky Frankenstein! Then take a ride on the Halloween Spook Train but be sure to look out for ghosts, zombies and much more will appear from out of nowhere to give you a scare!!!
Book now for Halloween at bunrattycastle.ie – See our full listing of upcoming events and all of our unique membership packages, bunrattycastle.ie