The Top 300 Classic Hits of The 80's and 90's this June Bank Holiday on Ireland's Classic Hits.
This June Bank Holiday Weekend we counted down the Top 300 Classic Hits of the 80's and 90's.
You voted across the weekend for your favourite hit from the 80's & 90's and the winner has been revealed...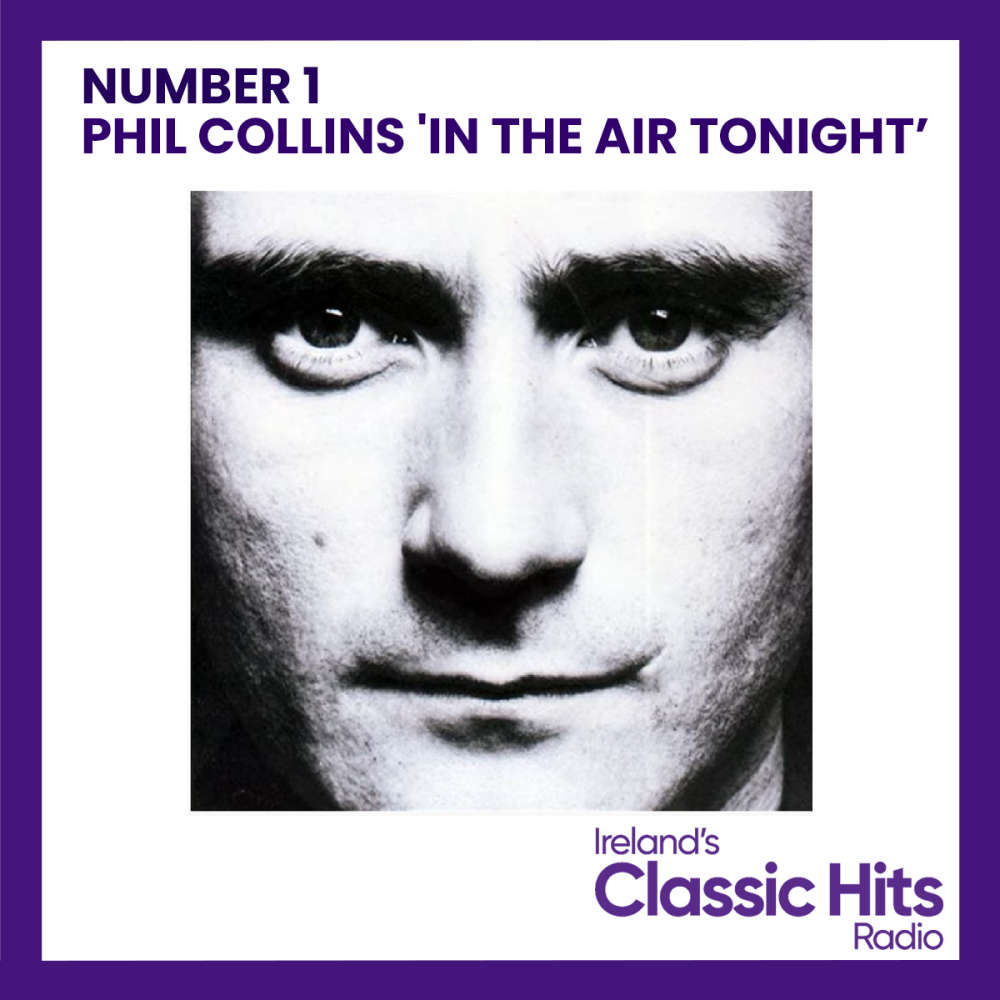 The Playlist from the weekend is below:
300 WEATHER WITH YOU CROWDED HOUSE
299 I'M COMING OUT DIANA ROSS
298 I WANNA BE THE ONLY ONE ETERNAL
297 ALIVE & KICKING SIMPLE MINDS
296 I'M EVERY WOMAN WHITNEY HOUSTON
295 I WANT IT THAT WAY BACKSTREET BOYS
294 DE DO DO DO, DE DA DA DA POLICE
293 SING HALLELUJAH DR. ALBAN
292 HUNGRY LIKE THE WOLF DURAN DURAN
291 KEEP ON MOVIN' FIVE
290 STUCK WITH YOU HUEY LEWIS & THE NEWS
289 FREE ULTRA NATE
288 THE WAY IT IS BRUCE HORNSY
287 KISS ME SIXPENCE NONE THE RICHER
286 RETURN OF THE MACK MARK MORRISON
285 VENUS BANANARAMA
284 I'LL BE THERE FOR YOU REMBRANDTS
283 OVER MY SHOULDER MIKE & THE MECHANICS
282 WHY ANNIE LENNOX
281 WOULD I LIE TO YOU CHARLES & EDDIE
280 DON'T GO HOTHOUSE FLOWERS
279 I TRY MACY GRAY
278 VALERIE WINWOOD, STEVE
277 I CAN SEE CLEARLY NOW JIMMY CLIFF
276 KYRIE MR. MISTER
275 WHATEVER OASIS
274 THE LOOK OF LOVE ABC
273 RELIGHT MY FIRE TAKE THAT
272 SHOW ME LOVE ROBIN S
271 SUDDENLY BILLY OCEAN
270 SAVE TONIGHT EAGLE EYE CHERRY
269 I'M SO EXCITED POINTER SISTERS
268 ORDINARY WORLD DURAN DURAN
267 ON THE RADIO DONNA SUMMER
266 AS LONG AS YOU LOVE ME BACKSTREET BOYS
265 IT'S MY LIFE DR. ALBAN
264 SLEDGEHAMMER PETER GABRIEL
263 SHE'S THE ONE ROBBIE WILLIAMS
262 COME BACK & STAY PAUL YOUNG
261 WICKED GAME CHRIS ISAAK
260 NEVER EVER ALL SAINTS
259 LITTLE RED CORVETTE PRINCE
258 BRASS IN POCKET (I'M SPECIAL) PRETENDERS
257 RIO DURAN DURAN
256 HERO MARIAH CAREY
255 OUTSIDE MICHAEL, GEORGE
254 LAYLA (UNPLUGGED) ERIC CLAPTON
253 WHERE THE STREETS HAVE NO NAMEU2
252 WATERFALLS TLC
251 HIGH LIGHTHOUSE FAMILY
250 TRULY MADLY DEEPLY SAVAGE GARDEN
249 MARIA BLONDIE
248 EVERYTHING SHE WANTS WHAM!
247 NO MORE I LOVE YOU'S ANNIE LENNOX
246 NEED YOU TONIGHT INXS
245 I SWEAR ALL-4-ONE
244 HAND IN MY POCKET ALANIS MORRISETTE
243 ALL THAT SHE WANTS ACE OF BASE
242 BABY I LOVE YOUR WAY WILL TO POWER
241 REAL GONE KID DEACON BLUE
240 THESE DREAMS HEART
239 SAVE A PRAYER DURAN DURAN
238 DON'T LET GO (LOVE) EN VOGUE
237 QUIT PLAYING GAMES (WITH MY HEART) BACKSTREET BOYS
236 MONEY FOR NOTHING DIRE STRAITS
235 ROTTERDAM BEAUTIFUL SOUTH
234 RHYTHM IS GONNA GET YOU GLORIA ESTEFAN
233 PRAY TAKE THAT
232 BABY, ONE MORE TIME SPEARS, BRITNEY
231 PART-TIME LOVER STEVIE WONDER
230 FASTLOVE MICHAEL, GEORGE
229 PRIDE (IN THE NAME OF LOVE) U2
228 I DON'T WANNA DANCE EDDY GRANT
227 LOVE IS ALL AROUND WET WET WET
226 DON'T GET ME WRONG PRETENDERS
225 JEALOUS GUY ROXY MUSIC
224 WALKING ON BROKEN GLASS ANNIE LENNOX
223 WEST END GIRLS PET SHOP BOYS
222 WHEN YOU'RE GONE BRYAN ADAMS
221 GET HERE OLETA ADAMS
220 DON'T STAND SO CLOSE TO ME POLICE
219 PERFECT 10 BEAUTIFUL SOUTH
218 MAN! I FEEL LIKE A WOMAN! SHANIA TWAIN
217 SMALLTOWN BOY BRONSKI BEAT
216 SOMETIMES LOVE JUST AIN'T ENOUGHPATTY SMYTH
215 HIGHER LOVE STEVE WINWOOD
214 I'LL BE YOUR BABY TONIGHT ROBERT PALMER
213 THE TIDE IS HIGH BLONDIE
212 NEVER FORGET TAKE THAT
211 HEARTBREAKER DIONNE WARWICK
210 THE SIGN ACE OF BASE
209 MY DESTINY LIONEL RICHIE
208 ALL I WANNA DO IS MAKE LOVE TO YOUHEART
207 SHE DRIVES ME CRAZY FINE YOUNG CANNIBALS
206 TORN NATALIE IMBRUGLIA
205 PROMISE ME BEVERELY CRAVEN
204 BABY, I LOVE YOUR WAY BIG MOUNTAIN
203 JUMP (FOR MY LOVE) POINTER SISTERS
202 YOU ARE NOT ALONE MICHAEL JACKSON
201 FALL AT YOUR FEET CROWDED HOUSE
200 HOLIDAY MADONNA
199 STARS SIMPLY RED
198 YOU KEEP ME HANGIN' ON KIM WILDE
197 DON'T MARRY HER BEAUTIFUL SOUTH
196 BABY JANE ROD STEWART
195 HOW DO I LIVE LEANN RIMES
194 CAN YOU FEEL IT JACKSONS
193 MOST BEAUTIFUL GIRL IN THE WORL PRINCE
192 SOMETHING HAPPENED ON THE WAY TO HE PHIL COLLINS
191 WAITING FOR A GIRL LIKE YOU FOREIGNER
190 OUT OF TOUCH HALL AND OATES
189 FREED FROM DESIRE GALA
188 WALKING IN MEMPHIS MARC COHN
187 TELL HER ABOUT IT BILLY JOEL
186 YOU'RE STILL THE ONE SHANIA TWAIN
185 LOVE OF THE COMMON PEOPLE PAUL YOUNG
184 TEARDROPS WOMACK & WOMACK
183 WOULDN'T IT BE GOOD NIK KERSHAW
182 LIVING ON MY OWN FREDDIE MERCURY
181 SHOW ME HEAVEN MARIA MCKEE
180 CALL ME BLONDIE
179 I'M ON FIRE BRUCE SPRINGSTEEN
178 DANCING ON THE CEILING LIONEL RICHIE
177 HOW DEEP IS YOUR LOVE TAKE THAT
176 SUNCHYME DARIO G
175 ST. ELMO'S FIRE (MAN IN MOTION) JOHN PARR
174 UN-BREAK MY HEART TONI BRAXTON
173 RHYTHM IS A DANCER SNAP
172 A GOOD HEART FEARGAL SHARKEY
171 UNDER THE BRIDGE RED HOT CHILI PEPPERS
170 FREEDOM '90 GEORGE MICHAEL
169 RASPBERRY BERET PRINCE
168 WONDERWALL OASIS
167 SEXUAL HEALING MARVIN GAYE
166 YOU LEARN ALANIS MORRISETTE
165 KIDS IN AMERICA KIM WILDE
164 ANGELS ROBBIE WILLIAMS
163 WHAT'S UP 4 NON BLONDES
162 BECAUSE YOU LOVED ME CELINE DION
161 WANTED DEAD OR ALIVE BON JOVI
160 SHOOP SHOOP SONG (IT'S IN HIS KISS)CHER
159 OUR HOUSE MADNESS
158 GOOD RIDDANCE (TIME OF YOUR LIFE)GREEN DAY
157 HOW AM I SUPPOSED TO LIVE WITHOUT Y MICHAEL BOLTON
156 INTO THE GROOVE MADONNA
155 PLEASE FORGIVE ME BRYAN ADAMS
154 LUKA SUZANNE VEGA
153 CAN'T HELP FALLING IN LOVE UB40
152 THE POWER OF LOVE HUEY LEWIS & THE NEWS
151 BACK FOR GOOD TAKE THAT
150 BLACK OR WHITE MICHAEL JACKSON
149 VIENNA ULTRAVOX
148 IT MUST HAVE BEEN LOVE ROXETTE
147 ENDLESS LOVE LIONEL RICHIE / DIANA ROSS
146 YOU KEEP IT ALL IN BEAUTIFUL SOUTH
145 WIND OF CHANGE SCORPIONS
144 RIDE ON TIME BLACK BOX
143 TWO HEARTS PHIL COLLINS
142 IRONIC ALANIS MORRISETTE
141 PRIVATE DANCER TINA TURNER
140 RHYTHM OF MY HEART ROD STEWART
139 BITTER SWEET SYMPHONY VERVE
138 THERE MUST BE AN ANGEL EURYTHMICS
137 WOMAN JOHN LENNON
136 CIRCLE OF LIFE ELTON JOHN
135 I DROVE ALL NIGHT ROY ORBISON
134 DRIVE CARS
133 LOSING MY RELIGION R.E.M.
132 LA ISLA BONITA MADONNA
131 AS GEORGE MICHAEL
130 STREETS OF PHILADELPHIA BRUCE SPRINGSTEEN
129 SAVING ALL MY LOVE FOR YOU WHITNEY HOUSTON
128 WHAT IS LOVE HADDAWAY
127 ROMEO & JULIET DIRE STRAITS
126 FAME IRENE CARA
125 FROM THIS MOMENT ON (SOLO) SHANIA TWAIN
124 KILLING ME SOFTLY FUGEES
123 DON'T LOOK BACK IN ANGER OASIS
122 IT MUST BE LOVE MADNESS
121 ALL NIGHT LONG (ALL NIGHT) LIONEL RICHIE
120 HOW CAN WE BE LOVERS MICHAEL BOLTON
119 1999 PRINCE
118 END OF THE ROAD BOYZ II MEN
117 A LITTLE TIME BEAUTIFUL SOUTH
116 TRUE SPANDAU BALLET
115 EVERY LITTLE THING SHE DOES IS MAGI POLICE
114 THINK TWICE CELINE DION
113 JUST CAN'T GET ENOUGH DEPECHE MODE
112 ETERNAL FLAME BANGLES
111 HURTS SO GOOD JOHN COUGAR MELLENCAMP
110 KISS FROM A ROSE SEAL
109 WE DIDN'T START THE FIRE BILLY JOEL
108 FIELDS OF GOLD STING
107 RUN TO YOU BRYAN ADAMS
106 KINGSTON TOWN UB40
105 EVERYBODY HURTS R.E.M.
104 MISSING YOU JOHN WAITE
103 WHEN THE GOING GETS TOUGH BILLY OCEAN
102 CRAZY FOR YOU MADONNA
101 MANEATER HALL AND OATES
100 CAN YOU FEEL THE LOVE TONIGHT ELTON JOHN
99 GANGSTA'S PARADISE COOLIO
98 I'LL STAND BY YOU PRETENDERS
97 BROKEN WINGS NO DOUBT
96 YOU WIN AGAIN BEE GEES
95 TO BE WITH YOU MR. BIG
94 DON'T YOU WANT ME HUMAN LEAGUE
93 BLACK VELVET ALANNAH MYLES
92 HOW WILL I KNOW WHITNEY HOUSTON
91 IRIS GOO GOO DOLLS
90 BETTE DAVIS EYES KIM CARNES
89 BEAT IT MICHAEL JACKSON
88 THE BOYS OF SUMMER DON HENLEY
87 HOLD ON WILSON PHILLIPS
86 EVERYBODY WANTS TO RULE THE WORLD TEARS FOR FEARS
85 TEARS IN HEAVEN ERIC CLAPTON
84 CHAIN REACTION DIANA ROSS
83 I DON'T WANT TO MISS A THING AEROSMITH
82 HEAVEN IS A PLACE ON EARTH BELINDA CARLISLE
81 KARMA CHAMELEON CULTURE CLUB
80 GOLD SPANDAU BALLET
79 SACRIFICE ELTON JOHN
78 DON'T YOU (FORGET ABOUT ME) SIMPLE MINDS
77 PAPA DON'T PREACH MADONNA
76 MORE THAN WORDS EXTREME
75 I THINK WE'RE ALONE NOW TIFFANY
74 BORN IN THE U.S.A. BRUCE SPRINGSTEEN
73 DON'T SPEAK NO DOUBT
72 (EVERYTHING I DO) I DO IT FOR YOU BRYAN ADAMS
71 CRAZY SEAL
70 THIS IS ASLAN
69 KISS PRINCE
68 TAINTED LOVE SOFT CELL
67 YOU GIVE LOVE A BAD NAME BON JOVI
66 EASY LOVER PHIL COLLINS
65 WE BUILT THIS CITY STARSHIP
64 I WILL ALWAYS LOVE YOU WHITNEY HOUSTON
63 I'M STILL STANDING ELTON JOHN
62 I'M YOUR MAN WHAM!
61 FLASHDANCE...WHAT A FEELING IRENE CARA
60 JACK & DIANE JOHN COUGAR MELLENCAMP
59 I KNEW YOU WERE WAITING (FOR ME)GEORGR MICHAEL / ARETHA FRANKLIN
58 EYE OF THE TIGER SURVIVOR
57 TOGETHER IN ELECTRIC DREAMS PHIL OAKEY
56 UPTOWN GIRL BILLY JOEL
55 DOWN UNDER MEN AT WORK
54 ALL OUT OF LOVE AIR SUPPLY
53 THE WAY YOU MAKE ME FEEL MICHAEL JACKSON
52 MANIC MONDAY BANGLES
51 BED OF ROSES BON JOVI
50 NEVER GONNA GIVE YOU UP RICK ASTLEY
49 WHAT'S LOVE GOT TO DO WITH IT TINA TURNER
48 A LITTLE RESPECT ERASURE
47 COME ON EILEEN DEXY'S MIDNIGHT RUNNERS
46 HEAVEN BRYAN ADAMS
45 WAITING FOR A STAR TO FALL BOY MEETS GIRL
44 LIKE A PRAYER MADONNA
43 RED RED WINE UB40
42 LISTEN TO YOUR HEART ROXETTE
41 EVERYWHERE FLEETWOOD MAC
40 TRUE COLORS CYNDI LAUPER
39 WAKE ME UP BEFORE YOU GO-GO WHAM!
38 TOTAL ECLIPSE OF THE HEART BONNIE TYLER
37 ANOTHER ONE BITES THE DUST QUEEN
36 BABY CAN I HOLD YOU TRACY CHAPMAN
35 YOU CAN'T HURRY LOVE PHIL COLLINS
34 I HAVE NOTHING WHITNEY HOUSTON
33 NOTHING'S GONNA STOP US NOW STARSHIP
32 DON'T LET THE SUN GO DOWN ON MEGEORGE MICHAEL/ELTON JOHN
31 BILLIE JEAN MICHAEL JACKSON
30 DANCING IN THE DARK BRUCE SPRINGSTEEN
29 COULD YOU BE LOVED BOB MARLEY
28 DON'T LEAVE ME THIS WAY COMMUNARDS
27 FAITH GEORGE MICHAEL
26 SWEET DREAMS (ARE MADE OF THIS) EURYTHMICS
25 I'D DO ANYTHING FOR LOVE MEAT LOAF
24 (I'VE HAD) THE TIME OF MY LIFE BILL MEDLEY
23 ALWAYS BON JOVI
22 THE BEST TINA TURNER
21 FOOTLOOSE KENNY LOGGINS
20 HOLDING OUT FOR A HERO BONNIE TYLER
19 I WANT TO KNOW WHAT LOVE IS FOREIGNER
18 RADIO GA-GA QUEEN
17 SHE'S LIKE THE WIND PATRICK SWAYZE
16 TAKE ON ME A-HA
15 GIRLS JUST WANT TO HAVE FUN CYNDI LAUPER
14 AGAINST ALL ODDS (TAKE A LOOK AT MEPHIL COLLINS
13 LITTLE LIES FLEETWOOD MAC
12 HUNGRY EYES ERIC CARMEN
11 AFRICA TOTO
10 LIVIN' ON A PRAYER BON JOVI
9 I WANNA DANCE WITH SOMEBODY (WHO LO WHITNEY HOUSTON
8 I WANT TO BREAK FREE QUEEN
7 FAST CAR TRACY CHAPMAN
6 DON'T STOP BELIEVIN' JOURNEY
5 EVERY BREATH YOU TAKE POLICE
4 CARELESS WHISPER GEORGE MICHAEL
3 UNDER PRESSURE QUEEN
2 SUMMER OF '69 BRYAN ADAMS
1 IN THE AIR TONIGHT PHIL COLLINS