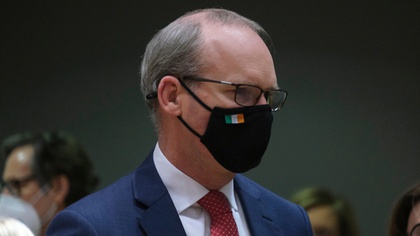 Clare's new Civil Defence Headquarters was officially opened on Tuesday evening at a ceremony led by Minister for Defence and Foreign Affairs, Simon Coveney TD.
Located at the Quin Road Campus in Ennis, the building, which began construction in 2019, was custom designed to serve as a state-of-the-art facility for the county's Civil Defence volunteers. It's expected that over 100 volunteers will use the facility for training, administration and storage purposes.
Speaking at the opening, Coveney called it "a fantastic facility and a tribute to everyone who has been involved in this project." He noted how Clare Civil Defence, which is a volunteer based organisation, had "undertaken 300 separate Covid-19 related tasks, and multiple other roles including a number of missing person searches, including in January, which concluded with the safe return of an elderly man." He called it "an organisation that brings with it a high level of professionalism in a volunteer body."
Representing Clare County Council, which funded the redevelopment of the headquarters in collaboration with the Department of Defence, Councillor Mary Howard noted how "Clare Civil Defence has had an outstanding record of service over many years." She said the facility would "support the essential and indeed life-saving work carried out by Civil Defence members."
82 active volunteers and 30 reserves are currently members of Clare Civil Defence. The organisation has been particularly busy over the last year, helping with various COVID-19 related tasks. Over the course of the pandemic, volunteers have clocked up a total of over 3,500 hours.