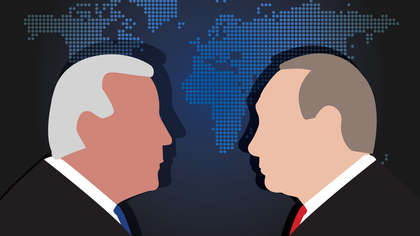 Another phone discussion is to be held between US and Russian leaders Joe Biden and Vladimir Putin as Russia continues its build-up of troops at the Ukraine border.
It's believed that Russia has deployed over 100,000 troops to the border. Putin requested a discussion with Biden and is expected to ask for security guarantees in the region.
Biden is expected to reassure Putin that a diplomatic solution is available to resolve the conflict.
Briefing the press ahead of the call between the leaders, a senior US administration official said that for the talks to prompt "real progress" they must be held in a "context of de-escalation rather than escalation."
Detailed discussions are set to be held between senior US and Russian officials in Geneva on January 10th. Having previously met in the city in June, Biden and Putin are not expected to take part in the upcoming round of talks.
The two leaders most recently spoke on a phone call on December 7th. Biden warned Putin that any invasion of Ukraine would result in major economic sanctions against Russia. Such threats have been dismissed by Russian officials.
Russia has demanded that Ukraine be denied membership of NATO and that the organisation reduced its military deployments in central and eastern Europe.