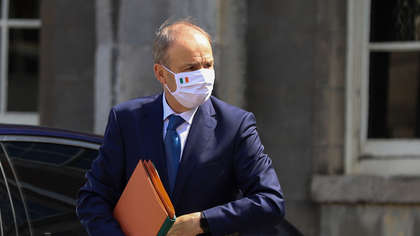 The Cabinet Committee on Covid-19 is holding a meeting today to discuss the recommendations presented to them by NPHET.
Chief Medical Officer Dr Tony Holohan sent the recommendations via a letter to Health Minister Stephen Donnelly.
Donnelly is expected to be joined in the meeting by the three coalition leaders, along with the minister for Finance, Public Expenditure, Justice and Social Protection.
NPHET have recommended placing a limit on household gatherings and imposing more restrictions on the hospitality sector.
Household gatherings would be limited to the host household plus three other households.
Proposed restrictions on hospitality include a maximum of six people per table, table service only, reduced opening times and multiple table bookings being discontinued.
NPHET would also like the COVID cert to be extended to areas beyond hospitality, something the government has rejected just two weeks ago.
Taoiseach Micheál Martin and Public Expenditure Minister Michael McGrath are also meeting representatives of the hospitality sector today.
The Restaurants Association of Ireland claims restaurants have had a drop of 80% in the level of business amid fears over the Omicron variant.
Adrian Cummins, Chief Executive of the RAI has called for the Employment Wage Subsidy Scheme to be restored "back to normal rates" and for a support scheme to be put in place for troubled businesses.
Tánaiste Leo Varadkar has promised the hospitality sector that if any further restrictions are imposed, the government would respond quickly with financial supports.