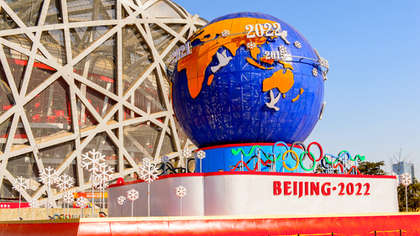 China has responded to the US decision to diplomatically boycott next February's Winter Olympics.
Threats of retaliation have been issued from Beijing as the Chinese authorities respond to what they view as a violation of the Olympic spirit.
China's foreign ministry spokesman Zhao Lijian said the tournament was not "a stage for political shows and political manipulation."
When asked how China might retaliate, Lijian said "stay tuned," promising that "the US will pay the price for its wrongdoing."
White House press secretary Jen Psaki announced on Monday that while the Biden administration would give US athletes their full backing, they would not be sending any diplomats to the games.
Psaki cited the administration's "fundamental commitment to promoting human rights."
China's embassy in Washington DC took to Twitter in response, tweeting that those calling for a boycott of the games were "doing so for their own political interests and posturing."
"In fact, no one would care about whether these people come or not, and it has no impact whatsoever on the #Beijing2022 to be successfully held," the embassy added.
"The US just wants to politicise sports, create divisions and provoke confrontation," China's mission to the United Nations said.