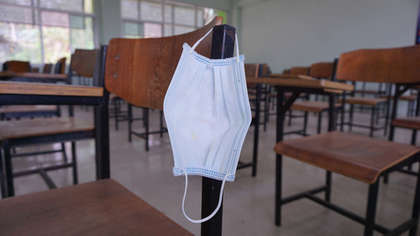 Following what has been described as a "constructive" meeting between the three coalition leaders and senior NPHET members, the Taoiseach has ruled out closing schools early for the Christmas break.
Taoiseach Micheál Martin said he doesn't believe closing schools earlier than planned would have any impact on stemming the spread of COVID.
"Either way, it may not make much of a difference one way or another but the important thing is to keep the rhythm, the routine going in respect of school and that is our agenda," he said.
Martin was responding to calls from DCU Professor of Immunology Christine Loscher to close schools early to create a circuit breaker over the Christmas period.
"I think in terms of just being sensible and preparing for the best possible scenario after Christmas … I really think that we should consider closing schools on Friday," Loscher said. "Every child then will have at least seven or eight days of very minimal exposure to the virus and other children and mixing, and those symptoms will actually come to the fore before Christmas. If you take your child out of school on Friday, you'll know before Christmas seven or eight days later whether they have the virus."
Chief Medical Officer Dr Tony Holohan revealed that 14% of Ireland's COVID cases are now of the Omicron variant.
"Results today suggest that approximately 14% of our cases are due to the Omicron variant," he said. "In line with the experience of many other countries, we can expect this proportion to rise rapidly over the coming days. This means that as we move closer to Christmas, we must try to reduce the number of people we meet, avoid crowds and work from home unless it is essential to attend in person."