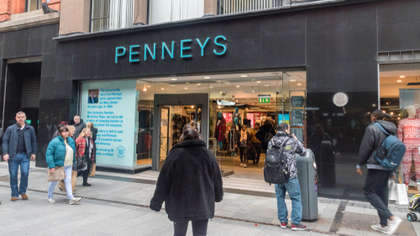 Retail chain Penneys is set to create 700 new jobs as it invests €250 million in a major redevelopment.
The redevelopment will see the chain increase its retail space by 20% over the next decade.
300 jobs will be created at a major new store set to open at The Square, Tallaght next autumn.
Cork City's Patrick Street store will receive €60 million investment in a major expansion with €20 million allocated for Galway's Eyre Square store. The Carlow store will relocate to a larger building for a summer 2022 reopening.
A new 5550,000 sq ft distribution centre is to be built in Newbridge, Co. Kildare at a cost of €75 million. It's expected to open in 2024.
Along with 600 new jobs in Penneys stores, 100 will be created at the company's global headquarters at Dublin's Arthur Ryan House.
"We hugely value our incredibly loyal Irish customers who have supported us over the years," said Primark CEO Paul Marchant. "Our investment plans demonstrate the confidence and commitment we have to Penneys in Ireland: we plan to remain at the centre of Irish retail for a long time to come."
"It's creating significant employment with 700 new jobs and will also help to secure footfall in our towns and cities once we emerge from the pandemic," said Tánaiste and Minister for Enterprise Trade and Employment Leo Varadkar. "Penneys is one of Ireland's best-known retailers and also an international success story, having driven significant global expansion over the last few years."