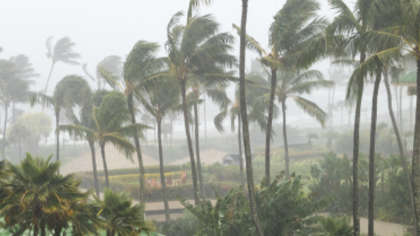 Typhoon Rai has claimed more than 80 lives as it wreaks havoc across the southern and central regions of the Philippines.
Over 300,000 people have been forced to evacuate their homes as villages are flooded, roofs are torn off and electricity networks are knocked out.
Officials on the island of Bohol, a popular tourist destination, have reported 63 deaths, taking the overall number of reported deaths to 89.
The typhoon, which first hit the country on Thursday, has reached speeds 195 kilometres per hour.
Charities have launched appeals for donations as a massive effort involving military personnel, police and emergency services battles the devastation.
"Our people have suffered greatly," said Arthur Yap, governor of Bohol.
The islands of Siargao, Dinagat and Mindanao have also suffered devastating damage, with tourists currently being evacuated from the latter.
Dinagat provincial information officer Jeffrey Crisostomo described seeing "big tables as heavy as a man flying during the onslaught of the storm."
The nation was taken by surprise as typhoon season usually runs from July to October. The Philippines is hit by an average of 20 typhoons a year.
Scientists are warning that the effects of climate change are resulting in more powerful storms and a longer typhoon season.
Typhoon Rai is now headed towards Vietnam.