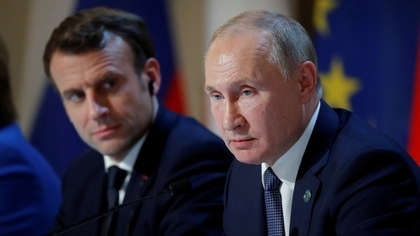 Russian President Vladimir Putin said he is willing to compromise on Ukraine after holding talks with French President Emmanuel Macron.
The two leaders spoke for five hours in the Kremlin as they sought a solution to the crisis in Ukraine.
Macron is the first western leader to meet with Putin since the crisis began in December with Russia amassing troops near the Ukrainian border.
"A number of his ideas, proposals… are possible as a basis for further steps," Putin said of the meeting with his French counterpart. "We will do everything to find compromises that suit everyone."
Putin denied that Russia was the aggressor in the situation.
"Saying that Russia is acting aggressively is illogical," he said. "It is not us who are moving towards NATO's borders."
Macron is meeting with Ukrainian President Volodymyr Zelensky in Kyiv today and will later speak to Putin over the phone.
"President Putin assured me of his readiness to engage," Macron said. "There is no security for the Europeans if there is no security for Russia."
Macron said he proposed a new strategic dialogue and a revival of the peace process between Kyiv and the country's Russian separatist faction.
US President Joe Biden said he would shut down the Nord Stream 2 gas pipeline from Russia to Europe if Russia invaded Ukraine.
"If Russia invades — that means tanks or troops crossing the border of Ukraine, again — then there will be no longer a Nord Stream 2," Biden said. "I promise you, we will bring an end to it."