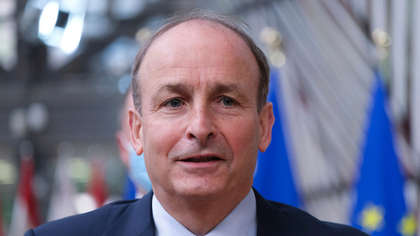 Taoiseach Micheál Martin has defended his government's decision to impose an 8pm curfew on hospitality and other indoor venues.
From yesterday until January 30th, pubs, restaurants, cinemas and theatres must close at 8pm.
NPHET had called for a 5pm curfew on all indoor venues.
Martin has defended the decision to close such venues at 8pm, saying the government can't take the chance of "letting Omicron rip and hope for the best."
He said reducing contacts by 20 to 30% will give the country a "very good chance" of defeating the Omicron strain.
Admitting there is "no exact science around timing," Martin said "the 8pm rule gives people the opportunity to get out and have drinks without overdoing it."
"We know what happened (last Christmas)," he said. "We got through it in the end, but with a heavy price. What we don't know about Omicron is the level of severity. We'd like to see some more data. We cannot take the risk with the population, in terms of just letting it rip and hope for the best. That would not be the right thing to do."
Martin said his government has no intention of closing schools following the Christmas break.
"The advice we're receiving right now is that there's not a problem or evidence that we should," he said.
The Taoiseach said there are no plans to follow the lead of Austria and Germany in introducing mandatory vaccinations.
"In my view, I think we have to keep pushing the voluntary approach," he said. "I do get the point that the unvaccinated take up a disproportionate element of the health service [but] I think we should keep going with the approach we have adopted so far."