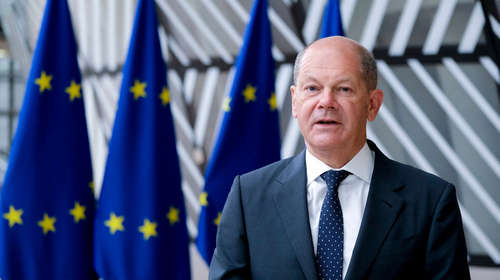 In Berlin, Taoiseach Micheál Martin held a joint press conference with German Chancellor Olaf Scholz this morning with a reaction to Russia's involvement in Ukraine top of the agenda.
Scholz confirmed that Germany is to halt the certification of the Nord Stream 2 pipeline, which would bring gas to Germany from Russia. He said that in light of Russia's actions, Germany would have to "reassess the situation with regards to Nord Stream 2."
"This is now about taking concrete steps," he said of a potential European reaction to Russia.
Martin condemned Vladimir Putin's decision to recognise separatist regions of Ukraine.
"It is a flagrant violation of international law and a breach of Ukraine's sovereignty," he said. "It breaches the fundamental principles of the UN Charter, under which all members must refrain from the threat or use of force against the territorial integrity or political independence of any state. As I have said, together with our EU partners, Ireland stands in solidarity with Ukraine. The Chancellor and I discussed the EU's response –which will be robust. I again, call on Russia to de-escalate, and to withdraw its military forces from the Ukrainian border."
The Taoiseach and the Chancellor will hold a private meeting this evening following a visit to Berlin's Memorial to the Murdered Jews of Europe, where Martin will lay a wreath.