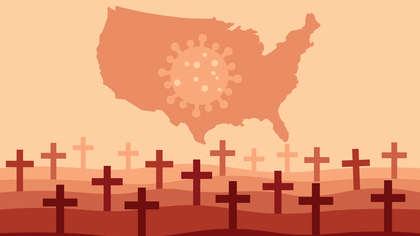 The number of COVID-related deaths in the US has reached a new milestone of 800,000.
That figure is higher than the population totals of four American states – North Dakota, Alaska, Vermont and Wyoming.
Despite the vaccine campaign, the virus has claimed more lives in the US this year than in 2020. Over 450,000 COVID-related deaths have been recorded in the nation this year, accounting for 57% of casualties since the start of the pandemic.
According to health experts, most of this year's deaths were among unvaccinated patients.
Analysis by Reuters shows that it took 111 days for the death toll to rise from 600,000 to 700,000, but just 73 days for the next 100,000 deaths to be recorded.
Along with the world's highest COVID death toll, the US also has one of the worst per capita death rates among western nations, ranking 30th among the 38 members of the Organization of Economic Cooperation and Development (OECD).
The US per capita death rate is topped only by Hungary, Slovakia, Czech Republic, Lithuania, Latvia, Colombia, Poland and Slovenia.
While housing just 4% of the world's population, the US accounts for 14% of all global COVID-related deaths and 19% of the planet's cases. Almost 50 million cases have now been reported.
The figure of 800,000 is almost double the number of American citizens killed in World War II and over 150,000 higher than the casualty count of the US Civil War.