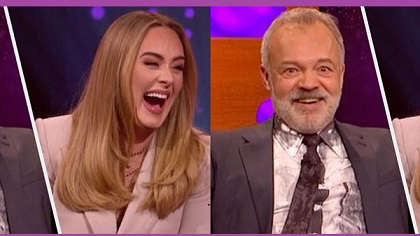 Adele has admitted her "regret" after cancelling her Las Vegas residency, while hoping to get back on tour before the end of 2022.
Adele admits feeling "regret" over the cancelation of her Las Vegas residency as she addressed her fan's furious backlash. The 33-year-old made her admission while speaking on Friday's episode of The Graham Norton Show, when she finally addressed when the shows will go ahead.
Speaking on the cancellations, Adele said she tried her "hardest and really thought I would be able to pull something together in time. I regret that I kept going until that late in the day.
"It would have been a really half-a***d show and I can't do that. People will see straight through me up on the stage and know I didn't want to be doing it. I've never done anything like that in my life and I'm not going to start now."
The singer claimed she and her team are "working our a***s off" to get the tour up and running. However, Adele confesses that she is waiting for "everything will definitely be ready" before announcing a new set of dates. Although, fans were assured that the tour will most definitely be happening before the end of the year.
"The sooner I can announce the better, but I just can't in case we are not ready in time. It is absolutely 100% happening this year." The Cry Your Heart Out singer said she is hoping for this to happen "this year" to avoid interrupting plans for "next year."
The mother-of-one went on to joke that the tour could be postponed even longer because she wants to expand her family. Adele currently has one child, nine-year-old Angelo, with her ex-husband Simon Konecki. Speaking to Graham, the BRIT Award winner joked; "Imagine if I have to cancel because I am having a baby. "I will be disappearing in terms of my music, but you might see a glimpse of me now and then and I won't be in complete hiding.
"It takes me a while to recharge, and I would like to have more children – I only just feel like I've caught up with my sleep from nine years ago when I had my son."