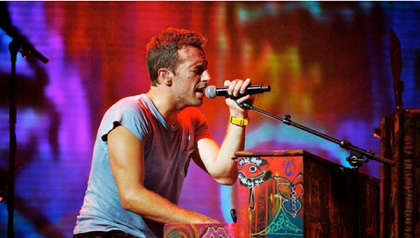 Chris Martin has teased fans that Coldplay are to release a new track "Weirdo" as part of a musical.
The Coldplay frontman has added that this latest single "is one of our best songs, it just hasn't come out yet".
This is also not the first time that Coldplay have worked on a musical. Back in 2015, Coldplay put together a musical for Game Of Thrones alongside the cast for Comic Relief.
"We have a new song called 'Weirdo' which has been waiting to come out for a long time because we're doing a kinda musical and this song has been waiting for that", Martin told the You Made It Weird With Pete Holmes podcast.
"Weirdo" does not feature on the band's upcoming ninth studio album "Music of The Spheres" which will be released on October 15.
42 days… #MusicOfTheSphereshttps://t.co/TglyCzQdOq pic.twitter.com/pU276IooNt

— Coldplay (@coldplay) September 3, 2021
The band also recently announced that they will also perform at Climate Arena, which is Seattle's "New Carbon Venue".
We're honoured to be the first act to perform at @ClimateArena - Seattle's new zero carbon venue - on Friday, October 22. The show will also air as a free global livestream. Verified Fan registration is open now - sign up for presale ticket access https://t.co/fIDncY3N58 pic.twitter.com/8Qpx7atU95

— Coldplay (@coldplay) September 8, 2021
Chris Martin and co also said that they are to be one of the headliners of Global Citizen Live later this month. Lasting for 24 hours, the charity livestream concert which will be broadcasted from various cities worldwide. Other acts include Billie Eilish, Ed Sheeran, Lorde, Lizzo and Metallica.
Coldplay's track Higher Power was released earlier this year.
Another song "Human Heart" was played during a Glastonbury livestream, with the track set to be released later this month.