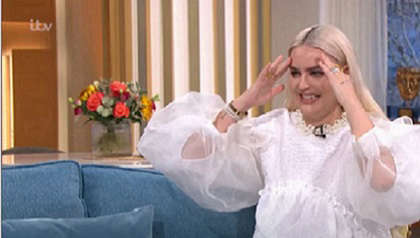 Anne-Marie has spoken about her comical fall on stage during her performance at the Brit Awards last night with KSI.
Anne-Marie was singing "Don't Play" with KSI and Digital Animals on stage.
The singer had began the performance by singing a verse from her Little Mix collaboration "Kiss My (Uh Oh)" from in front of heart at the top of a small suitcase. While walking down the stairs, Anne Marie missed a step, tripped and landed on the stage a few steps below.
After finishing off the performance, Anne Marie later tweeted "Didn't need my left ankle anyway".
Ouch, well recovered from the minor tumble there Anne-Marie 🙆🏾‍♀️😩 #BRITs #BritAwards #brits2022 pic.twitter.com/JgjvT1ScUB

— Mon Idylle 🎀 (@artbecomesyou) February 8, 2022
Didn't need my left ankle anyway

— 🍟ANNE-MARIE🤠 (@AnneMarie) February 8, 2022