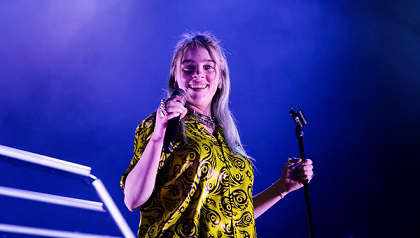 Billie Eilish has defended herself, claiming that she was "just helping a fan" after Kanye West requested an apology from her on behalf of rapper Travis Scott.
After stopping her music, to allow an audience member to be helped during a show, Billie Eilish has denied allegations that she was referring to the tragic events which occured during Travis Scott's Astroworld Concert last year.
The tragic events saw ten people dying during Scott's two day performance in Texas.
In clips that were shared online, Eilish can be heard saying "I wait for people to be ok until I keep going".
"very hurt by what happened"
Taking to Instagram, Kanye West emphasised that he will not play his headline slot at Coachella this year, if Eilish does not apologise for her remarks.
Kanye West also reiterated Scott's claims that he did not know people were being injured during his performance. He added that he was "very hurt by what happened".
"Come on Billie we love you please apologise to Trav and to the families of the people who lost their lives no one intended this to happen", West also added. "Trav didn't have any idea what was happening when he was on stage and was very hurt by what happened".
"And yes Trav will be with me at Coachella but now I need Billie to apologise before I perform".
Billie Eilish has taken to Instagram to refute these allegations from West, claiming that she "never said a thing about Travis".
"Literally never said a thing about Travis. Was just helping a fan", she wrote.
Eilish was also nominated for an Oscar after her James Bond track No Time To Die was nominated for Best Original Score.