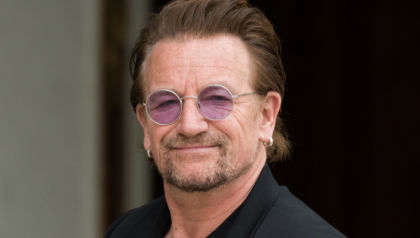 Bono has said that he is "amazed" that his band U2 have never gone on hiatus.
Amazed that the rockers are "still going", Bono claimed in a recent interview that they have come close to splitting up on several occasions throughout their 47 year career in the music business.
However, despite the rows and disagreements, Bono has insisted that he is always thrilled when himself, The Edge, Adam Clayton and Larry Mullen Jr manage to reconcile and continue as a band.
"I'm amazed we're still going", he conceded. "Being in a band is tricky. The older you get, it gets even trickier, because when you grow up together, you're used to taking bits out of each other".
Bono continued, "You're as good as the arguments you get, but at a certain point, when people are doing well, the male loves to be the lord of his own domain, you know? It's rough. And you can just imagine why people say, 'Ah, f*** this, I'm outta here".
"I mean, I really genuinely expect that and the band breaks up all the time", he added. "It's the truth. Then we get back together and I'm grateful we do".
U2 have already announced plans to release a new album of "reimagined and re-recorded tracks" on St Patrick's Day, along with confirming advanced talks to embark on an Elvis style Las Vegas residency later this year.
Songs of Surrender. Limited Edition Crystal Clear 2LP Vinyl available to pre-order now. https://t.co/Bh5iOaY9wP pic.twitter.com/ydPdNjLFz3

— U2 (@U2) January 13, 2023