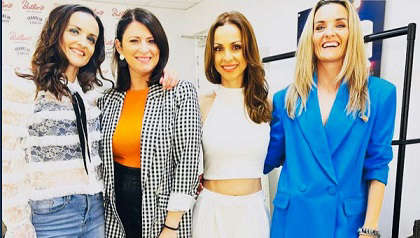 B*Witched have announced that they will reunite to join Blue for their live tour this December.
The 90s Irish girl group will reunite with the boyband, for their comeback tour 'Heart and Soul', along with their new album of the same name.
Kicking off in Cardiff's Motorpoint Arena on December 4, the tour also includes dates at Manchester, Leeds, Liverpool, Birmingham, London, Brighton, Nottingham, Bournmouth, as well as performances in Aberdeen and Glasgow, before wrapping up in the tour at the Utilita Arena in Newcastle on December 20.
"We are really excited to be teaming up with the girls from B*Witched on our UK tour. We had great fun touring Australia and New Zealand with the girls a few years ago and we are looking forward to round two!", Blue said of the tour.
Hello beautiful people. We have a new release date for our upcoming album, "Heart & Soul". It'll be yours on 28th October 2022. Pre-order it at https://t.co/uDDD9zVbz7.

Thank you for your ongoing support, we have the best fans in the world.

Antony, Duncan, Lee & Simon. 💙 pic.twitter.com/0IuSnjNy8C

— BLUE (@officialblue) August 23, 2022
"We are so excited to announce that we will be joining Blue on their 'Heart And Soul' arena tour in December 2022", B*Witched said in a statement. "We have been wanting to tour together for some time now after nicknaming ourselves Bluwitched several years ago and are thrilled it is finally happening".
The group also hinted that this tour could see them unleashing new music of their own, "We will be bringing our hits of course but we have a new single and expect some surprises from us too!".
B*Witched who comprise of Sinead O'Carroll, Lindsey Armaou, along with sisters Edele and Keavy Lynch, are of course known for pop hits 'C'est La Vie' and 'Blame It On The Weatherman' amongst others during the late 1990s.