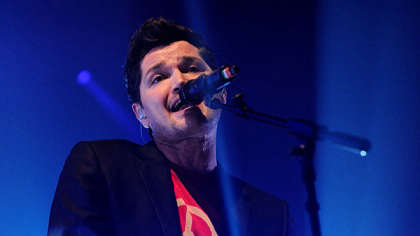 The Script frontman opens up in a recent interview on the tragedies of his personal life and how music has gotten him through tough times.
Despite the success which comes leading one of Ireland's top groups, Danny O'Donoghue admits he still feels "broken in the inside". Speaking ahead of the release of their upcoming greatest hits, The Script frontman revealed that money and success do not bring him happiness, with the pandemic reminding him what is important.
In a candid interview with The Sunday Independent, Danny reflects on the band's journey and his own personal path. The 40-year-old said: "I have had to meet myself, I had to look at myself hard in the mirror and really try to find out who I am. I'm just somebody trying to get on like everybody else.
"I'm broken on the inside. It doesn't matter how much money, or how much success you have to make you think that it is happiness. It is not happiness. I'm very strong about my emotions. I am able to say I am weak a lot of time, and that I am broken inside. Who else is? Put your hand up."
Opening up about the pain in his life, Danny discusses "an absolute tragedy very close to my family". A two-month-old baby had sadly passed away and Danny sang at the funeral, as well as the funerals of both his parent's.
Later in the interview, Danny reveals his thoughts on a pandemic which "was almost like solitary confinement". The singer feels that he has come out of it "knowing that all the other stuff around me is absolutely nonsensical and the things that matter most to me are my family, my friends and the one that I love."
"I was on the road for 12 years before COVID-19. I'll look back and think of the time I had curling up on the couch [during lockdowns] and getting to know the love of my life and getting to know me as a person, because I am extremely different than I was 12 years ago. I am still an open book, but I still feel I know nothing."
Hailing from a long line of poets, song writing and music that help him manage his emotions and to "understand how I feel on the inside." Danny believes music helped him navigate through his hard times whenever tragedy struck in his life. The singer feels it is important to teach young children that there are creative outlets "pain, angst, anxiety and this anger that modern-day society gives them."
"This generation has a lot of anxiety from very early on."
The Script look set to release their upcoming greatest hits album, Tales From The Script on October 1st and are planning a world tour for 2022.