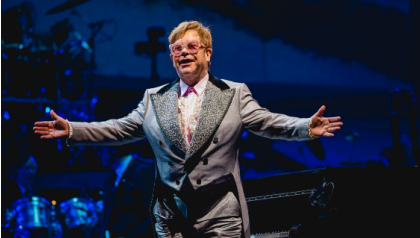 Elton John has spilled the beans on the fitness regime which has helped him get in shape for the final leg of his Farewell Tour.
The music icon kicked off the last leg of this tour in Liverpool last week. With 50 tour dates remaining, Elton John has three shows in Dublin this week alone.
His last UK performance will take place at this year's Glastonbury Festival in June, with his final live show coming from Sweden a month later.
The singer had announced these shows five years earlier, however, the Covid-19 Pandemic and several lockdowns led to these shows suffering delays.
The last few years have also seen Elton John experience several health scares, including pneumonia and a hip replacement.
Despite this, Elton John has kept himself in shape to perform these Farewell Tour Shows, revealing that he walks 6 miles per day in his swimming pool, sideways.
"I get up, have breakfast and go for a walk in the pool. At my age that is the best thing I can do. I walk sideways and do about six miles a week", the singer revealed.
Elton John had said that he is stepping away from the touring stage to spend more time with his family, including husband David Furnish and their children Zachary 12 and Elijah 10.