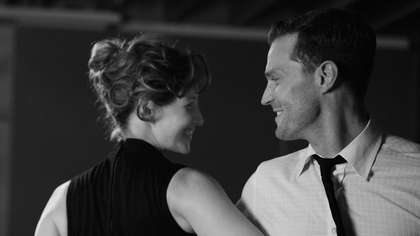 Kenneth Branagh gets personal in his latest film.
Branagh is known for interpreting the works of others – most notably Shakespeare – but with his latest film, Belfast, he's turning to his own life for inspiration.
Set in the Northern Ireland of the late 1960s, Belfast sees Branagh mine his own childhood experiences of growing up in the city in that turbulent era.
The black and white film, which Branagh both wrote and directed, revolves around nine-year-old Buddy, played by young actor Jude Hill. A stand-in for the young Branagh, Buddy's life is upended when his glamorous working-class parents – played by Jamie Dornan and Caitriona Balfe – contemplate leaving Northern Ireland as the Troubles brew. Buddy's grandparents are played by Judi Dench and Ciaran Hinds.
The film's official synopsis reads:
"A coming-of-age drama set during the tumult of late-1960s Northern Ireland, the film follows young Buddy (Jude Hill) as he navigates a landscape of working-class struggle, sweeping cultural changes, and sectarian violence. Buddy dreams of a glamorous future that will whisk him far from the Troubles, but, in the meantime, he finds consolation in his charismatic Pa (Jamie Dornan) and Ma (Caitríona Balfe), and his spry, tale-spinning grandparents (Ciarán Hinds and Judi Dench)."
Branagh was inspired to make the intimate film when the pandemic shut down large scale filmmaking.
"I found that this lockdown really triggered something for me that reminded me of a fragility in our lives," he said in an interview with Vanity Fair. "I felt obliged and compelled to finally revisit this moment."
"In a way, innocence was lost, things would never be the same again," Branagh said of the impact of the Troubles. "It's something I've been trying to understand, as I grow older, that it was a moment when the world tried to insist that you put away childish things, and demanded that you are dragged into this perilous adulthood."
When his script was completed, Branagh made sure the first to read it were his family members, who were surprised at how autobiographical the story was.
"They were very supportive," he said. "But my sister said to me, 'Wow, for a very, very private, quiet man, you really put it out there, haven't you?' So I guess I did. Sometimes it has to happen that way. Sometimes I think things have to come out."
Belfast is said to open with a harrowing scene in which Buddy's neighbourhood is attacked by an angry mob. It's based on an incident Branagh remembers well.
"I remember I thought I was hearing a swarm of bees, I didn't understand why it should be so loud," he said of the attack. "And then it was just this mob. Overnight, that security has gone."
Branagh says the Northern Irish actor Jamie Dornan was excited to play a character so close to home.
"He greeted the script like it was an old friend," he said of Dornan's enthusiasm. "You could feel the excitement in his voice, that he felt he knew this person."
Ciaran Hinds, who plays Buddy's grandfather, grew up on the same street as Branagh's childhood home.
"He kind of recognised his own father in this character," said Branagh of Hinds.
Branagh found parallels between the uncertainty of the pandemic and the beginning of the Troubles.
"In this last 18 months or so, there's been this profound disturbance to what, in retrospect, was this innate comfort of the routine, in what might've felt like normal lives," he said. "And suddenly, you live with this thing that human beings just don't like: uncertainty."

Belfast had its world premiere at the Telluride Film Festival on Thursday night. It opens in Irish cinemas on November 12th.