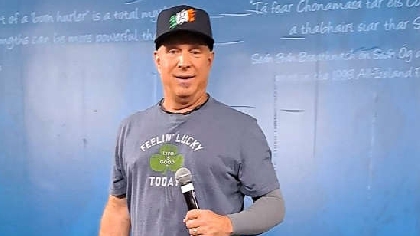 Garth Brooks brought two documentary teams as he travelled around Ireland over the last 10 days.
The country singer has told Trina Mara from Ireland's Classic Hits the purpose of filming his time here. He said "We just want to document it. You guys live here so I don't know if you know how rare this place is. I've been trying to tell you. So anytime you're here, you wanna film it. They are going to film it all including the documentary so there are two documentary teams following us around. One of them is the Dreamchasers - the same guys who did the World Tour in 1994, Maurice and all those guys - sweet guys. They're always with us whenever we're here.
They're going to be documenting the journey from 1997 Croke Park through the retirement to the 2014 "wanna come back?" kinda thing for me and then finally getting to do it. Then of course the show itself will be done totally on a separate deal. Maybe they'll go together on the same streaming service or network". He added how he doesn't know when the documentary will be ready.