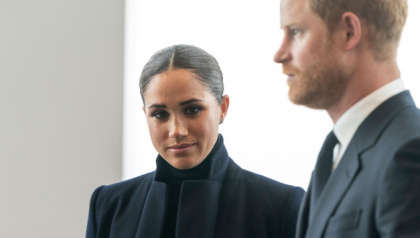 Prince Harry has spoken about the "feeding frenzy" surrounding his relationship with Meghan Markle in the couple's recently released tell-all Netflix documentary.
On the opening episode of the three part show which has been released, Prince Harry described this frenzy as "It is basically the hunter versus the prey".
The first episode also opens with a written statement, calling this documentary a "first hand account of Harry & Meghan's story told with never before seen personal archive".
The second episode shows Prince Harry talking about the interest showed by the paparazzi, along with social media harrassment.
His initial relationship with Meghan "became a combination of car chases, anti-surveillance driving and disguises, which isn't a particularly healthy way to start a relationship but we always came at it with as much humour as possible", according to Harry.
He also added, "Whenever we saw each other we would give each other a massive hug and try and have as much of a normal life as possible".
"feel scared"
This Netflix special also saw Meghan Markle speak about the levels of harrassment she received, including a death threat in Toronto.
"I would say to the police, if any other woman in Toronto said to you I have six grown men who are sleeping in their cars around my house who follow me everywhere that I go and I feel scared, wouldn't you say that it was stalking?", she said.
"And they said yes, but there's really nothing we can do because of who you're dating. I was like, so I'm just supposed to live like this? And then I got a death threat and things changed because I needed to have security".
Elsewhere, Prince Harry also spoke about concerns for his family.
"It's the nature of being born into [the Royal Family]", he stated. "The level of hate that has been stirred up in the last three years, especially at my wife, and my son, I'm genuinely concerned for the safety of my family".
On the Royal Family's response to the fears, Harry comtinued, "But what people need to understand is as far as a lot of the family were concerned, everything she was being put through, they had been put through as well".
"So it was almost like a rite of passage and some of the members of the family were like, 'My wife had to go through that so why should your girlfriend be treated any differently? Why should you get special treatment? Why should she be protected? And I said the difference here is the race element".
Referring to his late mother Diana, Prince Harry felt there was now a real worry of history repeating itself.
"To see another woman in my life, that I love, go through this feeding frenzy, that's hard", the Duke of Sussex said. "It is basically the hunter versus the prey".
This documentary also sees Prince Harry and Meghan speak about how thet met via Instagram, while Prince Harry also describes wearing a Nazi uniform to a costume part as "the biggest mistake of my life".