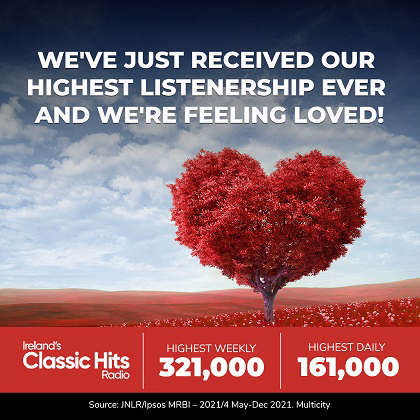 Ireland's Classic Hits Radio has recorded its third successive JNLR all time high in the latest JNLR. The ratings, which cover the period May-December 2021, give the multicity broadcaster 321,000 weekly and 161,000 daily listeners, increases from 309,000 and 158,000 respectively on the last JNLR survey. Market share now stands at 5.2% in the multicity area. *
CEO Kevin Branigan said, "These are very encouraging listenership for us today! Ireland's Classic Hits Radio is one of the largest radio stations in the country and our growing figures over the last 18 months demonstrate this more and more. Our team has worked very hard over the past 12 months and its such a great feeling to see this work and innovation coming through in the JNLR today".
The station's presenter lineup includes The Colm & Lucy Breakfast Show, Trina Mara, Niall Boylan, Damien Farrelly, Kim Wilde, Lisa Gernon, Adrian Kennedy, Enda Murphy, Barry Lang, Meghan Scully, Ruth Scott and more. In addition, the station recently announced the return of the hugely-popular Gareth O'Callaghan to the schedule and also the arrival of Today FM and Radio Nova presenter Phil Cawley.
Ireland's Classic Hits Radio is the country's only multicity broadcaster, broadcasting to Dublin, Cork, Limerick, Galway, Kildare, Meath, Wicklow and Clare.
* JNLR/Ipsos MRBI – 2021/4 May-Dec 2021. Multicity