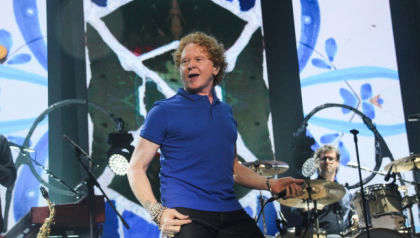 Simply Red have announced plans to release their latest studio album this Summer.
Arriving on May 26, the album 'Time' will be the 13 studio album released by the Mick Hucknall fronted band. 'Time' will be a follow up to their 2019 album, 'Blue Eyed Soul'.
Unveiling the release of their latest album, Simply Red shared their comeback single 'Better With You', which Hucknall wrote about his wife Gabrielle. The couple married in 2010.
"On the song itself, I'm reminiscing on phase one of the relationship with my wife, when we first met in Milan. At that time, I was single and just partying my way around the world. And I thought to myself: well, I didn't really know what I was doing. I was just going along, having a right old time. It just stemmed from there", Hucknall said of the track.
Elsewhere, Mick Hucknall also explained how the Covid-19 lockdown had inspired him to write new music.
"When we were in lockdown, I went, well, jeez, who am I actually?", Hucknall continued. What makes me tick? And I realised: you are a songwriter. So why don't you write some song about who you are? That's really the essence of this album".
"Music is one of those wonderful communicators. Each and every person can have an interpretation of a song that can mean something to them. To be able to create something that is then shared with millions of people all over the world – what a joy. How can anything be more rewarding and fulfilling than that?", the singer added.
Check out the tracklist below.

1. 'Better With You'

2. 'Just Like You'

3. 'Let Your Hair Down'

4. 'Shades 22'

5. 'It Wouldn't Be Me'

6. 'Never Be Gone'

7. 'Too Long At The Fair'

8. 'Slapbang'

9. 'Hey Mister'

10. 'Just Like You (Pt. 2)'

11. 'Butterflies'
12. 'Earth In A Lonely Space