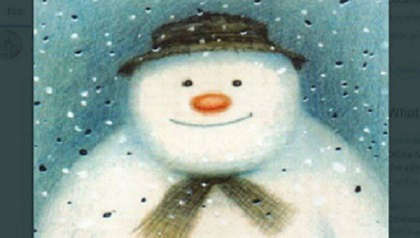 Tributes have been paid to illustrator and author Raymond Briggs, who has died aged 88. He was best known for his 1978 classic The Snowman.
Briggs' passing was confirmed by his publisher Penguin Random House, while his family released this statement.
"We know that Raymond's books were loved by and touched millions of people around the world, who will be sad to hear this news. Drawings from fans - especially children's drawings - inspired by his books were treasured by Raymond and pinned up on the wall of his studio", the statement read.
"He lived a rich and full life and said he felt lucky to have had both his wife Jean and his partner of over 40 years Liz in his life".
"He shared his love of nature with Liz on South Downs walks and on family holidays to Scotland and Wales. He also shared his sense of fun and craziness with his family, and with his family of artist friends - at get-togethers, fancy dress parties, and summer picnics in the garden".
"He played practical jokes and enjoyed them being played on him. All of us close to him knew his irreverent humour - this could be biting in his work when it came to those in power. He liked the Guardian editorial describing himself as an 'iconoclastic national treasure'".
Having been intially released as a picture book, The Snowman sold over 5.5million copies globally, before being turned into the much loved animation in 1982.
The book was subsequently made for Channel 4, and has since become a firm festive favourite for every Christmas since then.
"debt of grattitude"
Aled Jones came to prominence as a teenager, when he covered Walking In The Air, the song written for Howard Blake's film The Snowman, which was based on Brigg's book.
Paying tribute to Briggs, welsh singer Jones insisted that he owes a "debt of gratitude" to Briggs.
"What a legacy he leaves behind", Jones said in his tribute to Raymond Briggs. "His books have touched millions of people all around the world, and what a debt of gratitude I owe to his greatest creation of all. Thank you, Raymond".
Raymond Briggs also authored children's books, Fungus The Bogeyman and Father Christmas while earning a CBE for his services to Literature in 2017. He also earned the Children's Book Of The Year, and the Kurt Maschler Award.
See more tributes below.
Oh no. Not Raymond Briggs. A titan in our industry and a true one-off. The Snowman was a work of undeniable genius - a game-changer, not just in the world of children's books, but books full stop. Thank you for inspiring me, Mr Briggs. RIP. pic.twitter.com/lrVMx7DjVf

— Rob Biddulph (@RobBiddulph) August 10, 2022
Deeply sad to hear of the death of Raymond Briggs. What a magnificent legacy he leaves, from his iconic Father Christmas and the Snowman to the terrifying Where the Wind Blows. His books brought so much joy and inspired so many, touching, hilarious and heartbreaking work ❤️R.I.P. https://t.co/q0LTuA25Gm

— Cressida Cowell (@CressidaCowell) August 10, 2022
So sad to hear about Raymond Briggs this morning. A huge fan since I was a child, I had the great fortune of working with him a few years ago. Grumpy and difficult, he was nonetheless a genius.
"Nothing is permanent but woe."#raymondbriggs #fungusthebogeyman pic.twitter.com/YDIiWdXTma

— Lara Maiklem FSA - The London Mudlark (@LondonMudlark) August 10, 2022