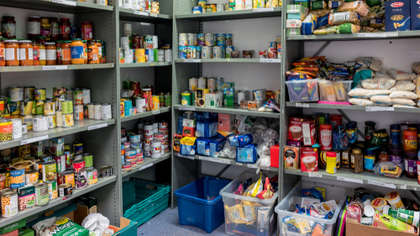 Irish colleges are reporting a growing number of students relying on food banks to keep themselves fed amid rising education and accommodation costs.
Universities across the country have long provided food banks, usually run by student unions or chaplain's offices, but the demand for their services has become unprecedented in recent times.
"There is a cohort of students who barely survive and do not have family support, as they too are barely surviving," said TUS chaplain Shay Casey.
Many college food banks simply can't keep up with the demand from students. On Wednesday the students' union food bank at University College Cork ran out of food after being open for just an hour.
"Many students are really, really struggling financially and it's gotten to the point where they have to go to a food bank to try and get food," said Union of Students in Ireland (USI) president Clare Austick. "What we're seeing in Cork is just a fraction of what's happening across the country, It's across the board. The way the education system is funded in Ireland, it's basically a broken system."
The students' union at UCC reports students at the college paying up to €260 per week on accommodation, leaving little to spend on food and other essentials.
Speaking in the Dáil, People Before Profit/Solidarity TD Mick Barry told Tánaiste Leo Varadkar that the situation at UCC should make the government "blush, if you had any shame."
"Under this government thousands of students are literally surviving on rations," Barry said. "How could it be otherwise when we have the highest student fees in all of the European Union, and we have students forking out €700 and more per month, just for a box room."
Varadkar responded by saying €596,000 had been allocated to UCC to help students struggling financially as part of the Student Assistance Fund.